This post may contain affiliate links. Migraine Strong, as an Amazon Affiliate, makes a small percentage from qualified sales made through affiliate links at no cost to you.
Dizziness relief is something we all need because one of the hardest parts about living with a vestibular disorder is dealing with daily dizziness. For starters, it's a terribly unpleasant and unsettling sensation. Feeling it daily is exhausting more than most people know. Because our brains use so much energy in attempting to compensate for dizziness. 'Dizzy' is also an all-encompassing word to describe the many types of symptoms we experience. Our dizziness can include general imbalance, rocking and swaying, dropping and bouncing sensations or full on whirling vertigo.
With that line up of dizzy symptoms it's important to have an arsenal of treatment options ready to bring you relief. So when you're feeling your worst, they'll be easy to reach for. So let's get right into the strategies and treatments. I polled members of the Migraine Strong facebook group to ask them about the strategies they use for dizziness relief. Here's what they said…
While Migraine Strong writes about the latest in migraine treatments, this is not medical advice. We are patient educators and all information you read should be discussed with your doctor.
First Protect Yourself and Others
If you are having a symptomatic day do not drive. This might sound silly to mention, but the reality is we have obligations and we don't enjoy letting people down. We are expected to be at work, pick our kids up from school or visit with friends in need etc. We want to be there to show up for people. But, if you're having a bad day you must accept it, stay home and do what you need to do to feel better.
A Few Dizziness Relief Tips to Use During Attacks
Supplements for Dizziness Relief
Diet for Dizziness Relief
Medication for Dizziness Relief
Natural Treatments
Movement for Dizziness Relief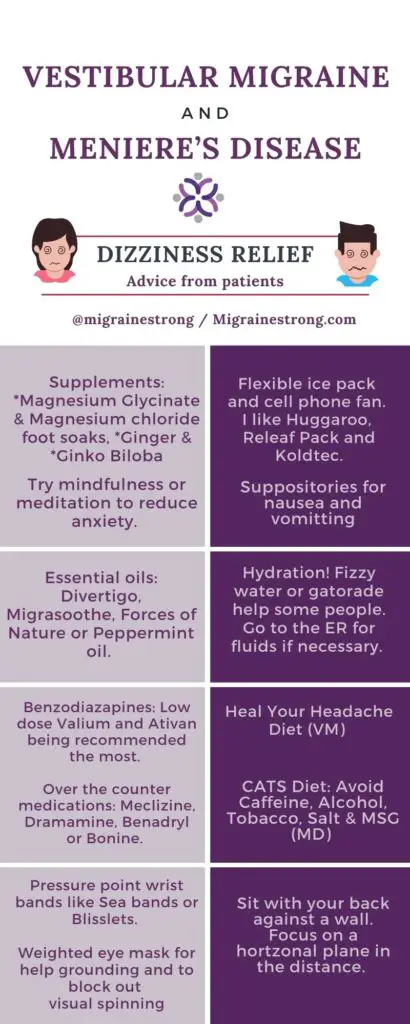 Dizziness Relief to Avoid
What you should not attempt by yourself at home is the Epley maneuver or other maneuvers like it. The Epley is specifically meant to move loose crystals back into position for people who are experiencing BPPV (benign paroxysmal positional vertigo). Dizziness felt in vestibular migraine stems from your brain, not your ears. So maneuvers like the Epley are not effective for us. Not only that, it can be dangerous. If you have BPPV and don't perform the maneuver properly, crystals can get stuck in an ear canal causing constant spinning vertigo. It's always best to have procedures like this performed by a trained medical professional.
One Final Note
I can't leave you without mentioning one important side note. Beloved dizzy Dr. Hain reports the average age of his patients is about 50 years old. This is right around the age of menopause or perimenopause. If you have an increase in dizzy symptoms around mid life it may be tied to fluctuating hormones. Read Danielle's article for loads of information on this topic.
[1]- https://pubmed.ncbi.nlm.nih.gov/3537898/
[2]- https://pubmed.ncbi.nlm.nih.gov/10345150/
[3]- https://www.dizziness-and-balance.com/treatment/drug/benzodiazepines%20in%20vertigo.html
Amazon and the Amazon logo are trademarks of Amazon.com, Inc, or its affiliates.