What is a Migraine Elimination Diet?
Diet affects the frequency and severity of migraine symptoms in some people. The purpose of a migraine elimination diet is to reduce your exposure to common food triggers with the hopes of creating a calmer migraine brain. The migraine trigger list is a long one. Some migraine triggers are unavoidable like hormones, weather, sensory stimulus and so on. Others like irregular sleep, dehydration & food triggers can be avoided in an attempt to reduce our trigger load and to raise our migraine threshold resulting in better control over symptoms.   
** While Migraine Strong writes about the latest in migraine treatments, this is not medical advice. We are patient educators and all information you read should be discussed with your doctor.
Which migraine elimination diet should I choose?
There are many elimination diets out there to choose from. There really is no one "right" or "best" migraine diet. One of the most common migraine elimination diets is The Heal Your Headache Diet created by David Buchholz. Another good option is The Charleston Diet (which is a bit more restrictive) created by Carol Foster.
With just a quick internet search you'll likely find many other migraine elimination diet & vestibular migraine diet options. When looking at elimination diet possibilities it's important that you choose & stick to just one. Don't put any extra pressure on yourself by stacking elimination diet foods to other avoid lists. I've seen many people try to combine the HYH diet foods to the avoid list with The Charleston diet. This is unnecessary & only complicates the migraine elimination diet process. Choose the one diet that you are most likely to stick to and give just that one your all!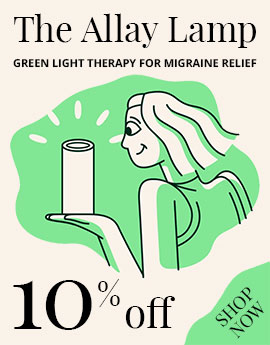 #AD
How Does a Migraine Elimination Diet Work?
The diets works in three easy steps:
Avoid all foods on the foods to avoid list for four months or until you reach baseline.
Because migraine elimination diets are built around the threshold theory, it's recommended to add foods back in one by one eating them everyday for five days to determine if each possible trigger food is a personal trigger for you. The reason to test each food for 5 days is because you may run into other triggers over five days like storms, fragrance, stress or hormone fluctuations. Because some food triggers may be small (only troublesome when paired with other small triggers), you'll want to give test foods opportunity to interact with other stimulus so even your small triggers can be identified.
Recognize that food triggers can change over time depending on how sensitized your brain is. After some time, plan to test your identified trigger foods again to keep your list current and updated.
Foods listed on the avoid list are there for a couple of reasons…
They have a high level of byproducts of food aging or fermenting. Some examples are red wine, yeast, yogurt, leftovers and aged cheese.
They contain chemicals similar to the neurotransmitters our brain uses which can excite brain cells & create cranky neurons when consumed.
A few examples of common food triggers are coffee, chocolate, MSG and added nitrates.  Migraine elimination diets remove those known foods giving things like tyramine, histamine, glutamate, tannins and sulfites the boot. Removing common trigger foods helps calm down hyper responsive migraine brains. If you have frequent or chronic migraine or vestibular migraine with 24/7 dizziness, it should be your goal in life to calm your hyper-responsive brain down.
How long should I follow the HYH diet?
All common food triggers listed on the HYH diet avoid list should be avoided for at least four months or until you reach baseline. You'll know you've reached baseline when you see a reduction in frequency and severity of your migraine symptoms. This temporary elimination diet phase will soothe your cranky neurons helping you reach baseline. Once you reach baseline, plan to move on to phase two where you'll reintroduce foods slowly one by one.
You are not meant to exclude foods on the avoid list forever. Don't get stuck in the elimination period & loose track of your purpose. If you never attempt to add foods on the avoid list back in, you will likely be unnecessarily avoiding many foods you could be safely enjoying.
Keep in mind that not everyone will find personal food triggers. But, it's my opinion that a temporary elimination diet like HYH is still helpful because knowing you don't have food triggers is excellent information to have. Just don't let the process drag on forever. It can be hard to make the decision to stop a migraine elimination diet. This article may help you if it's time to change strategies.
What is the purpose of the heal your headache diet?
The most important thing to remember here is that the purpose of a migraine elimination diet is not to make a permanent lifestyle change. Elimination diets like the heal your headache & Charleston diets are meant to be short term. The true purpose of a migraine elimination diet is to:
Reduce your trigger load.
Raise your migraine threshold.
Help you determine if you have personal food triggers and if you do, pinpoint which foods they are.
Is a vestibular migraine diet different from a migraine elimination diet?
I spend lots of time chatting with members of the migraine community. As an adim of the Facebook groups Migraine Strong and Vestibular Migraine Community I have opportunity to talk with many people who are also following a vestibular migraine diet. Based on their experiences, it's my opinion that those with vestibular migraine seem to be a bit more sensitive to ingested triggers. For that reason it may take those with vestibular migraine longer than four months to reach baseline on their vestibular migraine diet. Especially those with chronic, 24/7 daily dizziness. So, if you have vestibular migraine and follow a vestibular migraine diet, you might have to alter your expectations for reaching baseline at 4 months. The sweet spot for reaching baseline on the HYH diet for those with vestibular migraine seems to be around 9 months to a year.
The vestibular migraine diet I chose
With the help of my vestibular migraine doctor, I chose to follow The Heal Your Headache Diet. It's important to clarify that a vestibular migraine diet was not the only treatment I implemented. I was in very poor health when I started my vestibular migraine diet. I was dizzy all day every day and housebound for many months as a result. My vestibular migraine switch was stuck in the on position and I needed a multi modal treatment plan to turn it off. You can read more about the vestibular migraine symptoms I experienced in my vestibular migraine story. Along with the complete vestibular migraine treatment plan I used to get my life back.
My HYH Diet process for vestibular migraine
The first food I eliminated was coffee. It's best to slowly wean yourself off, but I quit cold turkey after noticing it contributed to my dizziness. I'm happy to say that it wasn't even a little bit tough. That in itself is sort of a miracle because if you knew me before VM, then you know I pretty much always had an iced mocha coffee in my hand. But, I was dizzy every minute of every day and I couldn't stand it. Eliminating coffee immediately reduced the intensity of my dizziness. Yes, I was still dizzy but, that slight improvement was all the motivation I needed to keep going. Tapering off caffeine as part of your vestibular migraine diet is a great place to start.
I then went all in and avoided all of the foods on The HYH foods to avoid list. I did not give up sugar, wheat, dairy or gluten, but, stuck strictly to avoiding only the foods listed on the Heal Your Headache avoid list.
Is processed food safe on a migraine diet?
Some processed foods are considered safe on the HYH diet, but it took a while for me to get a handle on what ingredients were safe in premade foods and which ones were to be avoided.  I felt so terrible in the beginning it was just easier to know that everything I was eating came from the HYH diet safe foods list. Rather than scouring ingredient labels, I chose to give up nearly all highly processed food & focused on eating whole fruits, vegetables and meats. I prepared all of the foods I ate. My friends joked that I ate like it was year 1900 and that's a pretty accurate description. If I wanted a cookie or a muffin, I baked it myself with ingredients I knew were safe. Keep in mind, this was a short term commitment, I don't eat like that anymore.
My HYH diet unexpected surprise
After a couple of months of following the Heal Your Headache diet, I grew weary of preparing everything I ate. I really missed the ease of having a little candy, HYH safe cereal and cookie that I could eat right out of the box. So I scoured ingredients & finally found a store bought ginger snap and cereal with HYH diet allowed ingredients. I ate a ginger snap or two nearly every day until I ran out. That's when I noticed the daily feeling of rocking I experienced began to fade. When I replaced & ate the cookies, the rocking came back. I wasn't sure what was causing it, but gave the cookies up for good.
Soon after, I tried the cereal I purchased and began feeling that rocking sensation again. I compared ingredients and realized that molasses was on both lists. Molasses is not listed on The Heal Your Headache foods to avoid list, but it is a personal trigger for me & following a vestibular migraine diet helped me find it.
My Heal Your Headache diet results
I believe following the HYH diet helped me in three ways…
The Heal Your Headache diet allowed my hyper-responsive vestibular migraine brain time to calm down. This resulted in a reduction in frequency & intensity of my migraine symptoms & ended my daily dizziness.
It helped me figure out my personal food triggers. This included difficult to pinpoint food triggers like molasses mentioned above. Before the HYH diet, I was feeling VM symptoms every day. When you're feeling symptoms 24/7, it's impossible to notice problematic foods.
As part of my multi-modal treatment plan, following a the HYH diet allowed me to remain on a lower dose of preventative medication.
In the end it took my brain waaaaay longer than four months to calm down & recover from daily dizziness. I ended up following the heal you headache diet for about a year before I began feeling good enough to trial adding foods back in. This isn't uncommon for those with vestibular migraine.
Is it hard to follow a migraine elimination diet
Did I ever slip up and cheat on my vestibular migraine diet? Of course. The good news is I never gave up trying. Following a vestibular migraine diet for a year might sound crazy to you but, I was eating better than I ever had in my whole life. Fresh fruits and vegetables, organic and grass fed meats and eggs, wild salmon, fresh baked goods and very little processed food were my staples.
By focusing on the foods I could safely eat I never found the migraine elimination diet to be that limiting. Except when it came to parties where most dishes are made with unknown ingredients & processed foods. When I attended gatherings, I always brought a dish I knew I could eat with me. When I went to restaurants I stuck with safe options like steak or fish with fresh vegetables on the side.
How did it go when I reintroduced foods
For me it was a mixed bag. I had many failed trials back then. Many foods on the HYH diet avoid list I tested provoked dizziness or head pain. But, many other foods I had been avoiding were perfectly safe for me.
The best unexpected outcome of following a migraine elimination diet for me was this – After following my personalized version of the heal your headache diet I gained so much control over my symptoms that I was able to successfully add back foods that I found to be triggers the first time I trialed them. I have now successfully added back coffee (just one cup), nitrate free bacon, avocados, bananas and even chocolate. 
Are personal food triggers forever?
For me the longer I was on the diet, the more food triggers I was able to tolerate. I'm now well into what I call a liberated Heal Your Headache diet. I still follow the general idea of the HYH diet, but my avoid list is small and more personalized to me as I've figured out my triggers. When my trigger load is low I can pretty much eat whatever I want (except for my big triggers like yeast) without repercussions. If the weather is bad or if I am close to my menstrual cycle an attack more likely so I have to be more careful. It's delightful to have days of eating freely with no fear at all.
How long does it take to feel food triggers
There is a common misconception that HYH diet food triggers will cause symptoms within an hour but, in fact, some effects will come immediately and some can come days later. So you can't just avoid a few things on the list and expect to know if it's a trigger for you.  We call that an avoidance diet and it just doesn't work. Plan to go all in on your migraine elimination diet for at least four months and then slowly add foods back in one by one, eating them every day for at least five days to see if symptoms arise for you. 
For me the Heal Your Headache diet did what it promised to do and helped me to reduce my trigger load and raise my migraine threshold. It now takes more trigger exposure to cause symptoms than it did early on. I am so grateful for the HYH diet as it was an effective short term strategy that helped in long term ways.
Is the HYH Diet complicated?
In the end I identified my personal food triggers but, admittedly they are a little complicated. Being able to eat foods some days, but not others is tricky. Learning small triggers that are only troublesome when combined with other small triggers takes time. Learning to decipher ingredients labels takes time as well. Focusing on the whole, fresh foods I could safely eat helped me through the process.
Can I follow The Heal Your Headache Diet instead of taking medication?
I wish I could say The Heal Your Headache diet alone was enough treatment to find relief, but for me it wasn't. After a month of trying it alongside hydration, sleep routine, exercise & supplements I added a daily preventative medication. A huge benefit of following the HYH diet is that I believe following this specific vestibular migraine diet helped my preventative medication to be effective at a very low dose. I'd like to keep my vestibular migraine preventative medication dose low for as long as I possibly can. 
Everyone is different, it's very likely that many of the foods on the HYH avoid list will not be personal triggers for you. You most likely only have a few. It's also possible that your personal food triggers will not be listed on the elimination diet list you choose, like molasses for me. There is no question that finding out whether or not you have personal food triggers is tricky but, you just might be rewarded for your efforts of getting to the bottom of it with fewer attacks and more symptom free days. How will you know if a migraine elimination diet will help you if you don't try it? How will you know if you actually have food triggers without ever following an elimination diet like HYH?
A little more about migraine stigma
I feel compelled to mention that migraine elimination diets are not about blaming the patient. You don't have migraine disease because of something you're eating. Migraine elimination diets are also not a cure. We have a neurological disease is not going to go away by eliminating food triggers. However, migraine elimination diets like the Heal Your Headache diet CAN help you identify food triggers & gain control over your symptoms. If there is even a small chance of lessening attacks through dietary changes that makes migraine elimination diets well worth trying in my book.
This blog was originally published July, 2019 and has been updated and refreshed.