Essential oils are highly concentrated plant extracts made from any part of a plant including leaves, stems, bark, roots and rinds. Makers use many different methods such as cold pressing and steam distillation to reduce them to concentrated oils that capture their scent. The benefits of these plant essences include congestion relief, pain reduction, feelings of wellness, relaxation and more. This guide will not promise you a magic cure to your migraine disease by using essential oils for headaches. Instead, it will show you the very useful place they hold in our migraine relief tool kits. While they can't control our disease, they can help to ease the symptoms of it.
Your migraine relief plan should include prevention strategies, abortive strategies and rescue strategies. Rescue strategies are treatments that won't prevent or abort an attack, but will make you more comfortable as you move through one. Due to the threat of rebound we can't always reach for our abortive medication especially if were experiencing multiple attacks each month. Meaning sometimes the rescue strategies that help comfort, soothe and get us through our attacks are all we have. Many people with migraine are looking for natural remedies to ease symptoms as well. Essential oils for migraine definitely fit that bill. Stay with me as I discuss the best essential oils for headaches along with many different ways to use them.
While Migraine Strong writes about the latest in migraine treatments, this is not medical advice. We are patient educators and all information you read should be discussed with your doctor.
10 essential oils for headaches
For me, buying essential oils is like buying flowers for my home to create those warm and fuzzy feelings of cleanliness and coziness. They provide enjoyable, non-triggering smells that promote feelings of wellness, influence positive emotions and increase energy. Science tells us that scent and emotion are intertwined. Knowing this, essential oils can be used as a powerful tool to invoke positive feelings and memories. (1)
Aromatherapy especially when paired with other wellness activities like yoga, journaling or engaging in art can create consistency in your routine to practice the mindfulness or meditation piece of the treatment pie. Preparing your diffuser can become part of your personal ritual to commit to relaxation each day. Here are some of the benefit claims of essential oils for headaches and migraine relief.
Peppermint–  Can alleviate nausea, upset stomach, headache, anxiety and increase energy. Applying peppermint to temples can reduce headache. (2) This is considered the best essential oil for headache and migraine relief.
Lavender– Soothes nervous stress, promotes better concentration & sleep quality and improves mood. One study showed lavender can reduce migraine pain when applied to the upper lip. (3) Next to peppermint, this is second in line for the best essential oil for headache and migraine relief.
Ginger– warming and spicy this one can reduce inflammation and pain, ease nausea, inspire confidence and reduce dizziness and fatigue.
Eucalyptus– Especially great for sinus pain eucalyptus promotes muscle relaxation, works as a decongestant, anti-inflammatory and antibacterial. When combined with peppermint can reduce brain fog. (4)
Rosemary– Works to calm the mind while also energizing the body, improves memory, decreases fatigue & reduces pain and inflammation. Rosemary has been shown to reduce pain when mixed with menthol. (5) It's not unusual to see posts in social media about the benefits of rosemary and migraines. Some people like to use the oil while others find chewing some of this fragrant herb to be helpful.
Ylang-Ylang– Soothes headache and nausea, calms the mind, reduced nervousness and prevents insomnia.
Lemongrass– Reduces pain, uplifts mood, fights depression, boosts energy and soothes inflammation.
Cinnamon– Warming benefits include reducing stress, relieving pain, stimulating circulation and natural bug repelling.
Chamomile– Like lavender, this oil is primarily used for relaxation. It promotes muscle relaxation, reduces soreness, eases nausea and can improve sleep. It may also help help reduce headache pain. (6)
Sweet basil– Great for those who suffer headaches due to hormone imbalance. It's energizing, fights fatigue, depression and anxiety.
The best way to use essential oils for headaches
Using essential oils as aromatherapy for migraine is one of it's most practical uses. Aromatherapy is a great way to increase your relaxation between and during attacks. Stress is one of the top triggers of migraine attacks. Essential oils can help set the stage for comfort and relaxation, but there are other ways to use essential oils as well that include:
Aromatherapy for anxiety and depression reduction.
Topical application to ease and soothe pain that comes with migraine attacks.
Topical application to mask synthetic fragrance.
Safe, synthetic fragrance free cleaning.
Personal synthetic free fragrance.
Aromatherapy for migraine
Scientists are not sure exactly how aromatherapy works, but they think it influences the area of the brain that controls mood and emotion. Diffusing is one of the best ways to use aromatherapy for migraine. It's especially great because you are in control of the amount of fragrance you smell. Whether you use a little or a lot is completely up to you. Members of our Migraine Strong Facebook group find diffusing for short bursts more helpful than diffusing for many hours. There is a lot of enthusiasm for trying different essential oils for headaches and migraine with peppermint and lavender being the most touted for relief.
To use essential oils for headaches and migraine, start by purchasing high quality oils and an easy to use diffuser. Avoid those that are hard to open or with too small a reservoir. I chose a diffuser made by Pure Enrichment. It's nice and big and more importantly it is so easy to use which is key when you're not feeling well. The cover just lifts off so there's no twisting or wrestling necessary to open it. Just add filtered water, a couple of drops of your favorite oils and plug it in. These oils by Aura Acacia are a nice set to get you started.
Looking for an essential oil for migraine recipe? Here's a great recipe to make your house smell like a migraine relief stick.
More fun ways to use aromatherapy for migraines
Air, fabric and carpet freshener- Purchase a glass spray bottle. You can use a large glass bottle or small glass bottle so that you can change your fragrance out more often. Just add a few drops of your favorite scent to filtered water and spray. Optionally add a teaspoon or two of rubbing alcohol to help remove germs. If you'd rather skip making one yourself, I'm currently loving this store bought deep pillow spray by thisworks.
Dry Evaporation- This option is great for small spaces and for those who like faint non-overpowering scent. Just add a couple of drops to cotton or diffusing stones and place them into a pretty container or dish. Amazon has the cutest natural looking reed diffusers that work by dry evaporation as well.
Car diffuser- I'm obsessed with my essential oil car diffuser. Not only does it refresh the small space, it can help fight off an attack and promote relaxation as well. I live in a highly populated county so I often find myself clenching my teeth as a result of the stress on the road which can immediately induce an attack for me. I add just a couple drops of lavender & peppermint to my diffuser to promote calmness while driving.
Simply inhale- Place a drop on your palm. Rub hands together. Cup palms over face and inhale. This technique can help you calm down, open sinuses, improve your mood and promote sleep. For less scent, dilute them in a carrier oil like coconut oil. Store bought options like Quease Ease by Soothing Scents are available for inhaling relief as well.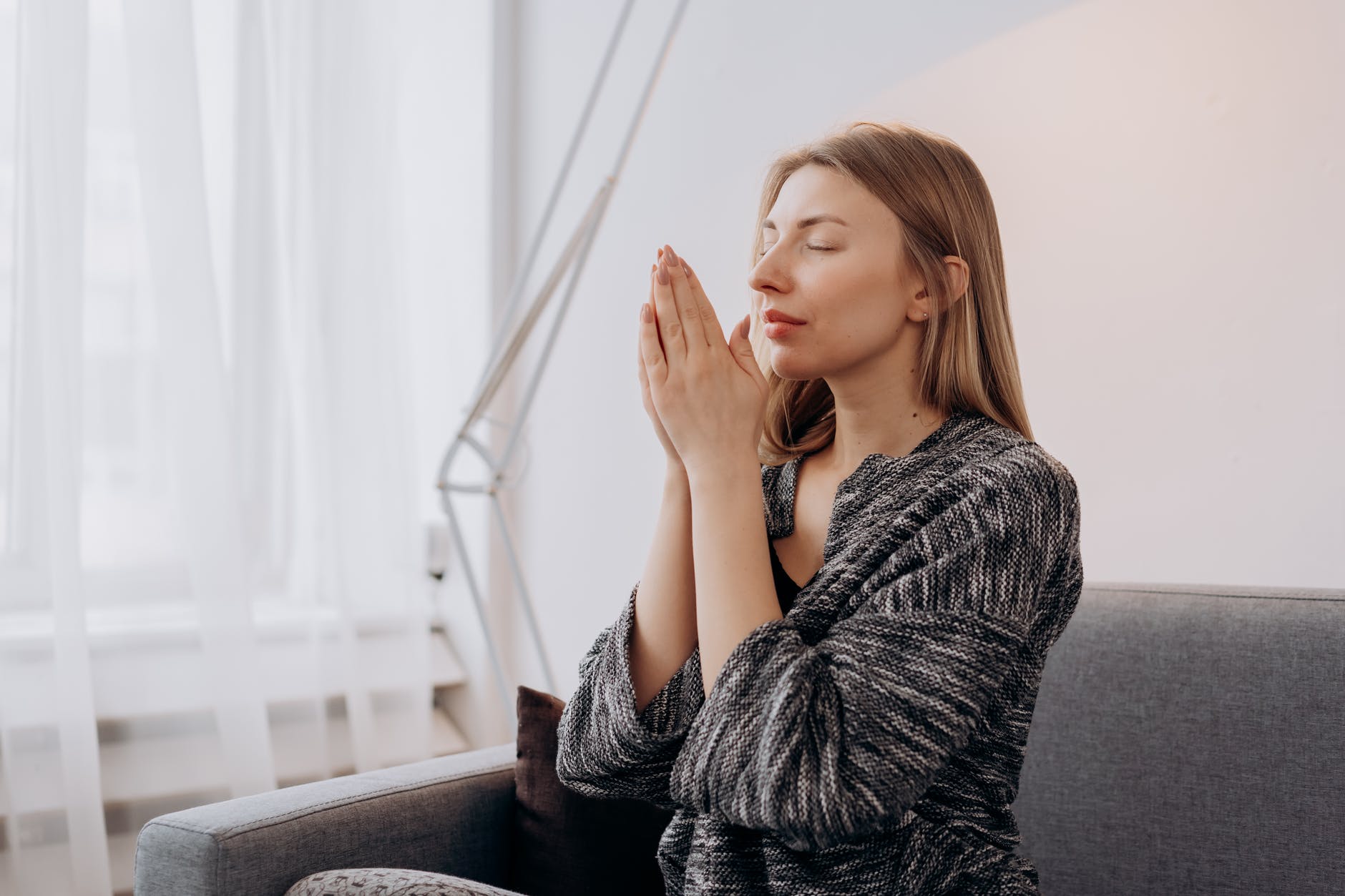 Essential oils for soothing pain
Another awesome way to use essential oils for headache relief is to roll them onto your areas of pain. Peppermint, cinnamon, ginger and more rolled on to the back of your neck, temples or scalp goes a long way in loosening muscles that tighten with attacks.
They also help to soothe allodynia, those painful spots that feel like bruises around your face and head. Topical roller balls can be tucked into your bag and swiped under your nose to mask the smell of triggering synthetic fragrances anytime you come across them. That little trick made me a much more pleasant person to be around in the office. I used to literally freak out anytime someone sprayed fragrance around me. Now I have control by masking it so these little roller balls are more empowering than I expected.
 A list of topical essential oils for migraine: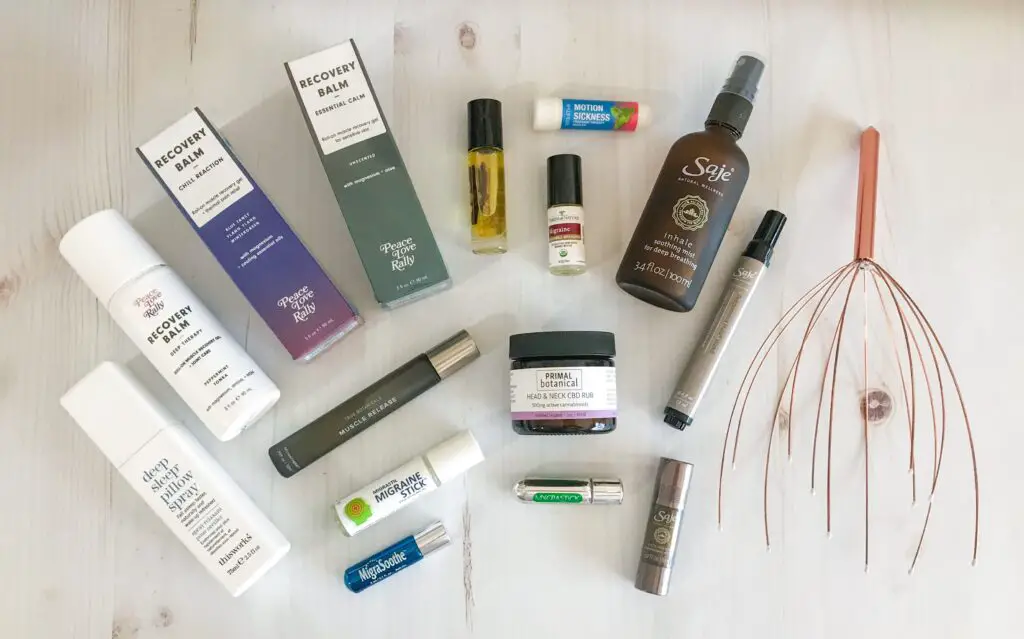 A list of topical essential oils for dizziness, nausea and vestibular migraine
Even more ways to use essential oils for headaches
Fragrance in cologne, perfume, cleaning products and more can induce headaches, migraine attacks and even respiratory problems in some people. While technically anything can be a trigger for anyone, essential oils are made directly from plants making them a safer choice for those with migraine disease. I'm so grateful they work for me. I really missed mood lifting scents since cutting out fragrance after my vestibular migraine diagnosis.
Essential oils for trigger free cleaning
Cleaning products containing essential oils are a good option for safe cleaning in place of products that include synthetic fragrance. Switching products is an easy way to eliminate fragrance triggers in your home.  I donated all of my harsh chemical cleaning products. I now use store bought products made with essential oils or I make my own. Squeak makes fantastic cleaning products free of harsh chemicals. Their peppermint, tea tree & lavender all purpose cleanser literally smells like you're using a migraine relief product as you clean.  In my home I also use essential oils for:
Whole room freshening by adding a couple drops to the pad of the steam mop.
Laundry freshening by adding a couple of drops to wool dryer balls.
Adding a few drops to your air conditioning filter for whole home freshening.
Dusting. Run a microfiber cloth under hot water. Add a couple drops of your favorite essential oil and use it for dusting. Rinse cloth when you see visible dirt and dust.
Use your essential oils to make the best sink cleanser ever as shown below.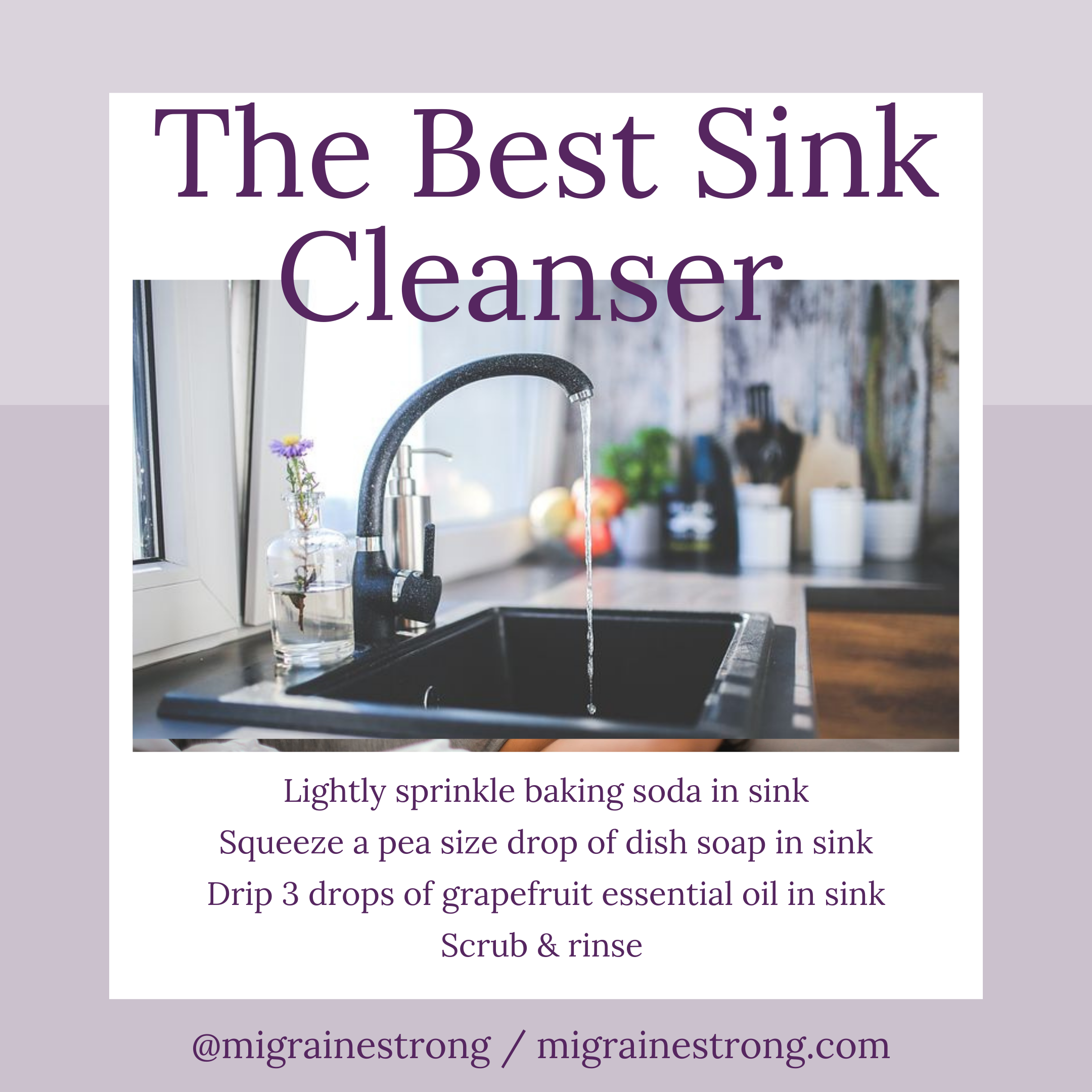 Essential Oil Body Fragrances
Here are a few great products to use in place of cologne and perfume.
Aromatherapy essential oil roll on by Frequency- I first found this brand in my Fab Fit Fun box. I have received SO many great migraine relief products from them I should write a post about it! The scent is clean and fresh and doesn't trigger pain or dizziness at all. Finding natural perfume options has been so fun. Now I always have one tucked into my bag. I'm currently using their positivity perfume oil.
Pacifica perfume roll on– While I haven't tried this one yet, it's on my list. This one gets rave reviews online and is easy to find on Amazon and at Target. The blood orange scent sounds amazing!
Saje Naturals- I received their natural perfume collection for Christmas and I just love it. It comes in 5 scents called Goddess, Ananda, Yoga, Tantra and Shanthi. The roller balls are small making them the perfect size to carry anywhere. Their light and earthy scents are a great alternative to synthetic, chemical filled perfumes.
Who knew essential oils for headaches could be used in so many ways?
Precautions
The reality of having migraine disease is that anything can be a potential trigger. Essential oils are highly individualized and can effect everyone differently. It's easy to confuse natural with safe. Even though essential oils are safer than synthetic fragrance for many, they can potentially still be a trigger. Additionally, some doctors prefer that their pregnant patients avoid certain types of essential oils during pregnancy. Many also caution against using them on children under 5. For this reason, always talk to your doctor before using them. We don't recommend ingesting essential oils for migraine relief. Discontinue if rash or reaction occur and call your health care provider immediately.
In addition there have been many reports about essential oils being unsafe for dogs. Never apply oils directly to an animal. Dogs noses are much more powerful than ours. If you have dogs in your home plan to talk to your veterinarian to learn which oils are potentially harmful before diffusing them in your home.
This article is written from patient perspective and is not meant as medical advice.
Studies mentioned in this article