One of the most common questions people with migraine have is, "what can I take to get rid of this migraine attack that is over-the-counter?" Another inquiry is about what to do when their usual acute medication is inconsistent. They are often surprised by hearing that Benadryl for migraine headaches is often helpful.
This can be music to their ears as many have easy access to this common, inexpensive medication that is in so many medicine cabinets. For some, it has been there so long they need to check the expiration date!
The goal of this article is to give you clear, concise information about how Benadryl may or may not be appropriate for you and your aching head.  
** While Migraine Strong writes about the latest in migraine treatments, this is not medical advice. We are patient educators and all information you read should be discussed with your doctor.
How Benadryl works, in general:
Benadryl is a popular brand name for diphenhydramine. There are many other brand names as well as generic diphenhydramine available on the market. Since Benadryl is a household name here in the US, I will use it interchangeably with its chemical name. Please note that in other countries, diphenhydramine may not be sold under the same brand name.
People reach for Benadryl primarily because it's an effective first-generation antihistamine. Histamine is a naturally-occurring substance made by our bodies. It is necessary for our health and wellbeing, but it can get out of balance and cause trouble. Surges of histamine are the main culprit in allergic reactions. Benadryl is commonly suggested by pharmacists and doctors to suppress the histamine response and for relief of symptoms.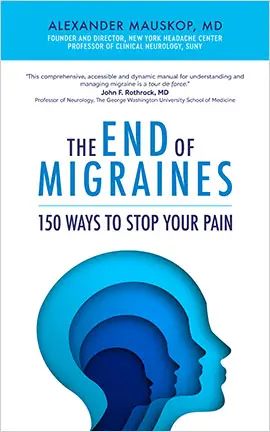 #AD
Benadryl is both an antihistamine and anticholinergic drug
Benadryl's effects are mainly from blocking two substances made by your body. It blocks histamine from attaching to cell receptors and causing changes in the cell that give us the negative symptoms we are trying to remedy. This is especially important during allergic reactions.
Histamine is a neurotransmitter that is excitatory. As you may already know, the migraine brain is already overly responsive to everyday stimulation, so having too much histamine may further exaggerate your symptoms.
Biochemically, Benadryl also acts to block the uptake of serotonin. This can lead to sleepiness as well as other welcomed or unwelcomed side effects.
The other substance it blocks is acetylcholine thereby putting this medication in the anticholinergic category. This fact will be discussed later when we review a controversial topic surrounding Benadryl. When this medication blocks acetylcholine you get drying effects that are often helpful for relieving runny noses and watery eyes but can also lead to dry mouth.
The sleepiness factor
Benadryl has a sedating effect for many because of the dual action of blocking histamine and acetylcholine. For some people it can also cause brain fog or the feeling of being "out of it" or hung-over.
Some popular nighttime pain relievers like Tylenol PM, Advil PM and Aleve PM are a combination of diphenhydramine and their name-brand pain reliever. It has been observed for a long time that combining Benadryl with analgesics boosts the pain-relieving effect. Combining Excedrin and Benadryl is popular. More on this key fact later.
What does Benadryl do for migraine, specifically?
It has been known for a long time that many people with migraine headaches have trouble with excessive histamine. Whether too much histamine is produced or too little is metabolized, we do not know but it is certainly part of the problem for many of us.
This medication crosses the blood brain barrier. Perhaps that is one reason for the effective Benadryl headache connection.
Taking Benadryl for headache and migraine can help in 3 possible ways-
1- The antihistamine action blocks circulating histamine from attaching to cells and causing negative effects like swelling of blood vessels. Also, histamine in the brain promotes wakefulness so blocking this perky chemical messenger may help calm our nervous system.
The antihistamine action of Benadryl during the migraine process may also reduce acid production in the stomach. Given that many people with migraine have reflux or other gastrointestinal complaints, this medication may be helpful.
2- Benadryl provides a welcomed soothing effect for the brain through blocking acetylcholine in addition to histamine. For many of us, sleep or at the very least, rest, is a key part of recovering from an attack. Many people know that they must get at least a short sleep to finally end the attack. Sometimes it's Benadryl that comes to the rescue.
3- Benadryl can boost the effectiveness of some medications. It's known for "medication potentiation" or boosting. I've never gotten a good explanation of how it happens, but Benadryl has a known effect of increasing the effectiveness of some medications it is taken with. Drug makers know this as it's paired with analgesics and cold medications for nighttime sleep.
It is often suggested to pair Benadryl with other acute migraine medications to enhance the speed and effectiveness of the primary treatment. Since it can interact with some medications in a good way it can also interact in a bad way so a pharmacist or doctor should be consulted before you use Benadryl for headache and migraine relief.
Cyproheptadine – A popular migraine preventive for kids
Cyproheptadine (brand name Periactin) is considered a first-line preventive for some kids who need a migraine preventive. During one of the Migraine World Summit presentations, Dr. Christopher Oakley, a pediatric neurologist specializing in headache disorders spoke about how effective it can be for his young migraine patients. 
I have heard it described as a more powerful Benadryl with some light Zoloft qualities. The description fits. Like Benadryl, it is a first-generation antihistamine, an anticholinergic (blocks acetylcholine) and also has a mild serotonin-blocking effects.
Frequently Asked Questions about Benadryl for headaches and migraine
1- I get agitated and feel terrible from Benadryl.  Why is that? 
There is very little published information about known side effects that some people have to diphenhydramine and other first-generation antihistamines. While most people experience sedation from Benadryl, some people experience the opposite, "paradoxical" reaction. Some research suggests that this is due to genetics.
For some, it's mild jumpiness and an acceptable trade-off for migraine relief whereas other people feel too agitated and jittery or "wired," and prefer to not use the medication.
According to several sites, side effects of Benadryl may include: dry mucous membranes, mood changes (feeling agitated), drowsiness, constipation, increased heart rate, irregular heartbeat, dizziness, difficulty urinating and stomach upset.
If you think you are having negative side effects from diphenhydramine, call your pharmacist or doctor.
2- Why do I get crazy restless legs sometimes and not other times?
Restless Leg Syndrome (RLS) is known to be worsened in some people by taking Benadryl. Personally, I have mild RLS but when I was pregnant it became awful at certain times but was fine other times.
As people with migraine, we already know we are sensitive to even mild changes in the balance of neurotransmitters. I urge you to read this article about restless leg syndrome. My takeaway from it is that many things influence our neurotransmitter balance and sometimes it's just "off" enough for that creep-crawly feeling to ruin our night. 
Dietitian tip – RLS is associated with iron deficiency even when anemia is not present. Additionally, correcting iron deficiency anemia can help RLS, headaches, migraine and your overall wellness.
3- Benadryl for Vestibular Migraine (VM)- Does it help dizziness, disequilibrium, vertigo and other vestibular symptoms?
If you think the research on migraine is lacking, the research on subtypes of migraine is even worse. It's no surprise that there aren't any good studies looking at Benadryl for vestibular migraine. However, there is some data that may be helpful as it has shaped recommendations from some prominent doctors specializing in the treatment of vestibular disorders including vestibular migraine.
Some of the information is from studies on motion sickness and antihistamines. As mentioned earlier, Benadryl effects acetylcholine. This substance is a known vestibular neurotransmitter (chemical messenger). Histamine may be a vestibular neurotransmitter and play a role in the vestibular system. Limiting both substances by first-generation antihistamines like Benadryl may be helpful for some people with motion sickness. The second-generation antihistamines like citerizine (Zyrtec), loratadine (Claritin) and fexofenadine (Allegra) are not anticholinergic medications and do not cross the blood-brain barrier. They have not been shown to be effective for motion sickness.
Dr. Timothy Hain, a prominent expert in VM and other vestibular disorders, considers the first-generation antihistamines effective vestibular suppressants and potentially helpful for some of his patients. His article on drug management of vestibular migraine has excellent information. Anecdotally, in social media we do not see many people reporting success with antihistamines. Dr, Hain says they are ineffective when the symptoms already start so maybe this is why. Perhaps Benadryl for vestibular migraine would be helpful to preempt an anticipated attack.  
4- Why Does Benadryl work for migraine headaches when other anti-histamines don't work?
The common, over-the-counter antihistamines that are marketed for allergy fall into 2 categories.  Diphenhydramine is in the category of first-generation antihistamines. Others in that category like dimenhydrinate (Dramamine), meclizine (Bonine) and doxylamine succinate (NyQuil) may also be effective for migraine, headache and vestibular symptoms.
These medications act centrally as they cross the blood-brain barrier and can be more helpful for migraine headaches. As discussed previously, blocking histamine and acetylcholine in the nervous system seem to be what makes them helpful in migraine and other conditions. They may be the best antihistamines for migraine headaches.
The other category of antihistamines, called second-generation antihistamines, do not cross the blood-brain barrier and are not anticholinergics. Examples are citerizine (Zyrtec), fexofenadine (Allegra) and loratadine (Claritin). These can be very helpful for seasonal allergies. Since they do not cross the blood-brain barrier they do not have the same possibly helpful effect as the first-generation antihistamines. They also do not have the same side effect profile.
5- Is Benadryl for migraine headaches considered a preventive or acute treatment?
When doctors suggest using Benadryl for headache and migraine episodes, it is typically done for acute treatment. There aren't good studies to support using first-generation antihistamines as migraine preventives. Later, we will discuss the recent controversy about frequent use of diphenhydramine and similar medications.
We have a resource loaded with excellent information on migraine preventives if you think you are at the point of needing to talk to your doctor about them.
6- How about Benadryl for migraine nausea?
Published research literature suggests that diphenhydramine may be helpful for nausea caused by vestibular symptoms like vertigo and dizziness. There is speculation that the sedative effect of Benadryl may also help the migraine nausea.
7- Can Benadryl give you rebound?
Benadryl is not on the list of medications that contribute to the risk of rebound / medication-overuse headache or medication adaptation headache as we in the community are moving towards calling it. We have several resources to help our readers understand if they are in rebound and how they can help escape this difficult trap.
8- I've gotten an intravenous Benadryl cocktail for migraine at the hospital.  Why is that?
It has been known for a long time that IV fluids, Benadryl, an analgesic or triptan and an anti-emetic like Compazine can be an effective combination to break a bad attack. The Benadryl may be given for the reasons discussed earlier as well as to minimize side effects from the IV anti-emetic. Antiemetics are often very helpful in breaking a bad migraine attack (with or without nausea) but sometimes they have very unpleasant side effects.
Ask your doctor about a suitable Benadryl cocktail for migraine that you can try at home to keep you from needing the visit to the ER.
9- When taking Benadryl for migraine headache, what should I know to help with the attack?
**As stated earlier, this is NOT medical advice and any medications you take should be discussed with your physician. The following is based on personal experience and observation.**
As you know, combining certain medications potentiates (boosts) the effect of the other. This is why some drug labels say "do not take with ____."  Some medications, when taken and metabolized together have a stronger effect than when they are taken separately. 
Benadryl is known to do this with quite a few medications including analgesics like acetaminophen (Tylenol) and non-steroidal anti-inflammatories like ibuprofen (Advil), aspirin, and naproxen (Aleve). Benadryl and Excedrin are also commonly taken together.
It was suggested to me by more than one healthcare provider that to "give the migraine a bigger punch and knock it out," I can combine my triptan with 1 or 2 Aleve tablets and Benadryl. As far as how much Benadryl for migraine is effective, I was not told specifically. I take 1, 25mg tablet.
After years of reading about this topic including watching each year of the Migraine World Summit and scrolling through social media many hours each week, the above combination of three medications is often cited. This is an example of the boosting effect of combining medications may be helpful.
Is it right for you?  I do not know. You MUST ask your doctor for specific medical advice. This article is not medical advice.
10- Can Benadryl be helpful on its own or does it have to be combined with other medications?
From all that I have read, it seems that Benadryl for headache and migraine (non-vestibular) is effective when it's working synergistically with an analgesic and/or a triptan. See my answer above regarding how I take Benadryl for migraine.
11- What is the latest research on Benadryl and dementia?
As evidenced in threads in our Facebook group and others, concern about Benadryl and dementia is making many people pause before reaching for it. The fairly recent news has made me hesitate, too. So, I took a deep dive into this issue and am happy with what I have to share with you.
Why the fuss?
In 2015 a population study was done that concluded that higher cumulative use of strong anticholinergic medications is associated with an increased risk for dementia. This was not specifically a study of a medication or antihistamines. It was a look at dementia associated with the known side effect that anticholinergics have on clear thinking while taking them. Studies like this are excellent to bring attention to observed patterns and bring about further research.
Additional data in 2018 and 2019
In a study done in 2019, there were no significant increases in risk associated with antihistamines. The dementia was associated with other anticholinergic medications.
In the WebMD review of the 2019 study they specifically state, "There was no increased risk of dementia among patients who took other types of anticholinergic drugs such as antihistamines (Benadryl) and gastrointestinal drugs." The article further states, "The researchers noted that this was an observational study, so it cannot prove that anticholinergic drugs help cause dementia. For example, it's possible that the drugs were prescribed to dementia patients to help treat very early symptoms of the disease." 
The risk-benefit analysis- What to do now?
The studies done in 2018 and 2019 are helpful for those of us who find Benadryl for headache and migraine helpful.  Quite honestly, I'm still a little spooked by the 2015 study as I don't want to interfere with the flow of my acetylcholine any more than necessary. But, being debilitated by migraine and/or the consequences of poor sleep may be equally bad for my brain. It's a conundrum.
So, what to do. A risk-benefit analysis. You look at the risks and the how likely the risks are to happen. And, you look at the benefits and how likely they are to happen. Then you make a decision. Sorry if this is too obvious, but I must state that it is very important to look at the risks of choosing to not treat a condition.
To treat or not to treat.
If we choose to not effectively treat an attack, what is the cost of not treating to our immediate health as well as our long-term health. Personally, I consider the physical, mental, emotional and social cost of being moderately or severely impaired by each migraine attack. 
Since I also occasionally take Benadryl to help me sleep when away from home, I look at the toll that a sleepless night may have on me and those around me. My personal decision is to accept the possible risk for the upside of getting needed rest, feeling well and joyfully fully participating in my life. If you have chronic migraine that is not well controlled, you might feel differently, especially if you have to medicate more frequently.
This decision process is important to go through in your own mind and again with your doctor. Of all the literature that I read while researching this topic, this article written by a medical doctor for GoodRx about whether or not to take Benadryl was my favorite. He discusses minimizing the medication and understanding other options.
12- What about long-term safety of regular use of Benadryl?
In spite of this medication being available since the 1940s, there is very little published data about the long-term effects of using it. The dementia risks as well as tolerance to diphenhydramine have been discussed above.
All medications, even those deemed very safe for the general public, come with some risk as we are all genetically and behaviorally unique. 
13- If migraine responds to an allergy med, does that mean migraine is related to allergy?
Allergies can certainly trigger migraine attacks in some people. Environmental allergies and food sensitivities causing an immune response can contribute to your migraine attack threshold. For more about that, please read about The Bucket Theory
With that said, migraine is a complex neurological condition linked to genetics. Your genes could make you more prone to imbalances in neurochemistry. These imbalances may be helped by antihistamines and other medications. But, that does not mean that the neurological condition is related to allergy.
14- Can you build up tolerance to Benadryl?
There is quite a lot of supporting evidence as well as anecdotal reporting of people building tolerance to Benadryl as well as other types of antihistamines.
15- What is the Benadryl for migraine dose?
The directions on the package should be followed unless you have specific instructions from your doctor about taking Benadryl for headaches. My package at home says the dosage for people 12 years and above is 1-2, 25mg tablets.
16- Should it only be taken at night since it can make you drowsy?
Caution regarding drowsiness is given by the manufacturers. So it is best to see how your body reacts if you are taking Benadryl when you cannot rest or sleep. Of course, some people do not experience drowsiness at all and others may feel "wired" from it. The paradoxical reaction was discussed above.
17- Can you take Benadryl for migraine headaches during pregnancy and lactation?
According to the FDA, Benadryl is a Category B medication. Anecdotally, many moms active in social media have been appreciative of having both Benadryl and Tylenol to use during their pregnancies. Taking any medication must be approved by your obstetrician. 
Regarding breastfeeding, Benadryl crosses into the breastmilk and can be consumed by the baby. According to this current publication from the NCBI:  "Small, occasional doses of diphenhydramine would not be expected to cause any adverse effects in breastfed infants. Larger doses or more prolonged use may cause effects in the infant or decrease the milk supply, particularly in combination with a sympathomimetic such as pseudoephedrine or before lactation is well established. Single bedtime doses after the last feeding of the day may be adequate for many women and will minimize any effects of the drug."  ** I know it's getting old, but I repeat- this is not medical advice.  Consult your doctor. **
18- Can Benadryl give you a migraine?
There is nothing in the literature nor have I heard many anecdotes of Benadryl triggering migraine. That does not mean that an individual cannot be triggered by this or any other medication. It's also possible that the ingredients along with diphenhydramine can be the culprit. For instance, some people take Benadryl gelcaps made with gelatin. Gelatin may be a problem for some of us. Fortunately, diphenhydramine is available in many forms.
19- How can I find diphenhydramine outside of the US?
As stated earlier, there is inconsistency between brand names from country to country.  In this article we are discussing Benadryl for headache and migraine when the actual medication is diphenhydramine.  Outside of the United States make sure that what you are taking is diphenhydramine. If it's not available, ask your pharmacist or doctor about other first-generation antihistamines and do a quick internet search to find out more.
We have quite a few people from Australia in our Facebook group and they have saved a step for their fellow Aussies with a list of products containing diphenhydramine.   
To help make this article as practical as possible, I obtained many of the questions below from our peppy and eager-for-information private Facebook group.  If you are not already a member, please consider joining us.
This article has been refreshed and update since it's original publication in 2020.