Migraine is a complicated neurological disease. Finding relief from its multitude of symptoms comes in many forms. Medication, supplements, hydration, movement, diet and so much more can empower us to take a control. But even when the best treatment plans help us lessen the frequency and severity of our migraine attacks, we are likely to still experience them. In addition, abortive medications must be limited to avoid medication overuse (rebound) attacks making rescue strategies all we're able to reach for some days. This makes natural strategies like finding and using the best migraine stick a good solution for symptom relief.
Migraine treatment should always, always include three solid treatment plans packed with strategies to find our best relief. You'll want a preventative plan, an abortive plan and a rescue plan.
A preventative plan includes strategies to prevent attacks like sleep schedule, hydration and medication.
An abortive plan outlines strategies you'll use to stop a migraine attack after it's begun.
Lastly your rescue plan should include strategies that don't prevent or abort a migraine attack, but make you feel more comfortable as you move through one. Let's talk about one of those comfort strategies in a migraine rescue plan, the migraine stick. Learn our top migraine relief stick picks and how we use them to manage symptoms.
** While Migraine Strong writes about the latest in migraine treatments, this is not medical advice. We are patient educators. All information you read should be discussed with your doctor before making any changes to your plan.
What is a migraine stick?
Typically, migraine relief sticks are essential oils mixed with a carrier oil placed in a glass tube with roller ball applicator meant to be topically applied to the skin. We find them most effective when they are used alongside other migraine treatments such as heat, ice, ginger, magnesium or medication. The purpose of them is to provide a cooling or warming topical sensation that helps comfort & ease symptoms. The key ingredients in the migraine roll on often include cooling essential oils like peppermint and lavender, but each brand has a unique and specific blend. Some contain oils that are more warming like ginger which is a nice option if you prefer a warm feel over a cooling one.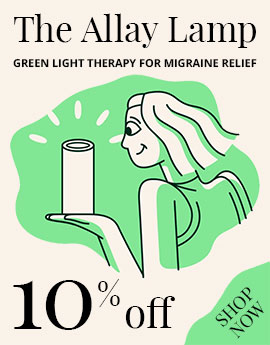 #AD
So do migraine relief sticks work?
I'll be frank in saying I'm not making any miracle symptom cure claims here. It is very unlikely comfort products will be your sole migraine treatment strategy. But, what they can do is provide real comfort when we need it the most. I love my migraine roll ons so much I have them tucked away all over my life. They're on my bedside table, in my bag, in my desk drawer, my car console and even my pocket when I'm out and about. They truly are a soothing strategy that I reach for nearly every day. Sometimes, just because the scent is so soothing.

Speaking of the scent, I completely understand that some people are triggered by fragrance. But for most of us, it's synthetic fragrances that really stir up migraine trouble. Many of us can tolerate essential oils that are more comforting than perfumey. If you can't tolerate essential oils migraine relief sticks will not be an option for you. But, a good migraine roll on can have a very useful place as part of our rescue treatment plan for many of us. Their warming and cooling properties do what they're intended to do which is to help make us more comfortable as we move through a migraine attack. They are very small and easy to throw into a bag or pocket for use on the go. They help ease…
Headache
Inflammation
Migraine
Pain  
Stress which can contribute to brain fog
Tension
Where to use your migraine stick
On your temples- Just be careful to use it sparingly here. Essential oils have a pesky way of traveling down the ridge of your cheek bones and right into your eyes.
On the back of your neck and shoulders- These are the areas that feel the most relaxing for me personally.
Directly on your scalp- If you ever experience allodynia then you know how migraine can make you feel like you have little areas of bruising all over your head, even between attacks. The best migraine rollers are so comforting here.
Above your lip- The best kept secret of the migraine stick is their ability to mask more offensive fragrance from things like chemicals, perfume and cigarette smoke. Just roll it right under your nose for relief.
Behind your ears- This area is so soothing, especially for those who experience dizziness.
8 Migraine relief sticks worth trying

1. Migrastil Migraine Stick– At nearly 25,000 reviews this original migraine stick boasts the most number of positive reviews on Amazon. It contains the cooling relief of peppermint, lavender and spearmint in a base of fractionated coconut oil. Migrastil offers a 100% satisfaction guarantee. Follow the link above and use promo code MigraineStrong to receive 15% off your purchase.
2. Forces of Nature Migraine– This little powerhouse roll-on delivers a pronounced therapeutic effect to ease migraine attacks naturally. It's certified organic & free of toxic chemicals. Save 20% on your purchase through the link and code NATUREMS19.
3. My Relief Migraine– Made by Aculief, this new to the market rollerball contains a distinctive blend of natural therapeutic-grade peppermint, spearmint, lavender and chamomile essential oils. It's non-GMO and non-toxic.
4. Saje Peppermint Halo– This one is nice simply because of it's applicator. Different from the other roller ball applicators here, Saje's peppermint Halo offers a felt tip applicator wand that works very well for use directly onto the scalp area of your head in spots where it hurts.
5. MigraSoothe– The small size & light weight of this one makes it perfect to tuck into your pocket. This one's fresh, yet not overbearing scent makes it delightful for use under the nose to mask offensive triggering scents.
6. Peace Love Rally– This is the largest roll on of the bunch and the only one that also includes our beloved magnesium. This one is great to cover larger areas of pain. I love to use it on my lower back. Save 10% on your purchase through the link with promo code MIGRAINESTRONG.
7. MigreLief Comfort Stick– This migraine relief stick is certified organic. It contains a unique blend of peppermint, spearmint, lavender and a surprise addition of rosemary essential oils in a Jojoba oil base promoting feelings of calm and refreshed.
8. Ruhe Roller Rescue– This delightful combination of five essential oils carried by nourishing apricot oil has such a pleasant, calming aroma. This is one migraine relief stick that makes me want to wear it daily as a personal migraine safe fragrance. Save 15% with code MIGRAINESTRONG15.
Migraine rescue on the go
Essential Oils are known for their calming, soothing, & aromatherapy properties. Their pleasant aroma makes them a useful tool for those with migraine who are not triggered by natural scents. Because those with migraine have to limit the number of medications we can reach for each month, having a variety of non-medicinal, natural strategies in our bag of treatment strategies is an absolute must.
Treatments that help to make us more comfortable as we move through a migraine attack are little drops of sunshine worth trying.