Reaching for either hot or cold for an attack is high on the list of relief options for those with migraine. It has the added benefit of also being very inexpensive. Using either of these strategies at the beginning of an attack can help reduce our need for medications. 
That's not to say that using hot or cold for headache will abort an attack. These techniques treat the symptoms of a migraine attack and can sometimes reduce pain enough so that we don't have to reach for our acute medications. This is particularly important for those of us who are chronic (more than 15 symptom days a month with at least 8 of them being migraine related) and have to be careful to limit our medications in an effort to avoid rebound. 
They also work really well in conjunction with other natural remedies or acute medications without worrisome interactions. Stick around while we explore the topic further and offer some suggestions for helpful products and do-it-yourself options that can really make a difference. 
Heat for migraine
Heat increases blood flow to the painful areas on the body. It allows blood vessels to opens up which facilitates blood and oxygen to effectively flow to the sore areas, helping healing. Heat therapy tends to help muscles, ligaments and tendons release their tension and relax. If the pain is partially caused by muscle spasms, heat can be very beneficial.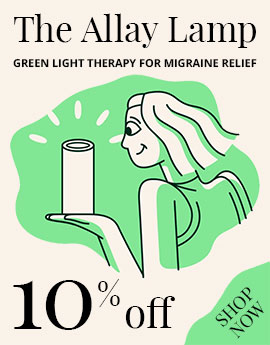 #AD
Who should avoid heat therapy
While it seems like there should be almost no risk to using hot or cold for migraine. People with some conditions could experience adverse effects. Some conditions that you should consult your doctor about before starting heat therapy include:
Heart disease
Diabetes
Skin conditions
Circulatory problems
Open wounds
Bleeding disorders
Decreased sensation in the skin
If severe numbness occurs, call your doctor
Popular 'hot' for migraine options to consider
It is pretty common for people with migraine to experience neck pain with their attacks. I have tightness, pain and a spasming in my neck muscles. Heat feels amazing on these painful areas. If I get it early enough, it can really limit the pain I feel. A heating pad or microwaveable option are the first things I reach for.
I frequently like to have just heat all the way around my head. I have a heating pad that I like to say heats up to 'lava' temperature. My favorite!! It's also long enough to wrap all the way around my head!! It produces moist heat which makes it feel wonderful as it cradles my head and presses heat into my cheeks, forehead and eyes. Because it's weighted, it provides some wonderful pressure as well. 
Many people talk about taking hot showers when they are having an attack as well. I like the idea of it and it feels great when I do it. But I have a ton of hair and the idea of trying to dry it when I have an attack is more than I can deal with. 
I also have a Huggaroo neck wrap that is wonderful for when I am not lying in my bed. I have the unscented one, but there is also one that is lightly scented with lavender. The specific electric heating pad I have for my neck and shoulders is also helpful for when I am sitting up and working or watching a show on TV. 
Cold for migraine
This study looked at the history of using cold to target migraine attacks. The mechanism of action is not well understood, but the theory in this study was the cooling of the blood flow through the intracranial vessels. 
The participants placed cooling ice towels around their necks at the onset of an attack, specifically targeting the carotid arteries. They left them in place for 30 minutes and their pain reduced around 30% compared to the control group whose pain increased approximately the same amount with no treatment. 
Keep these tips from Dr. Sanjay Gupta in mind if you are considering either hot or cold for migraine
Make sure the temperature is not extreme.
Keep a towel between your skin and the heat/cold source.
Don't apply heat/cold for more than 15-20 minutes at a time.
Watch for burns or if your skin becomes numb, blistered, or red.
Never apply to broken or irritated skin.
Avoid cold therapy if you have circulatory problems.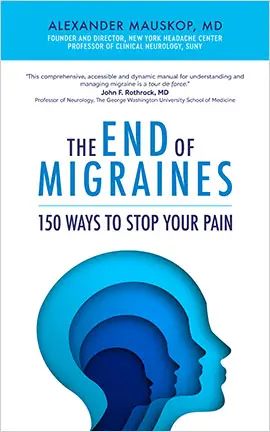 #AD
My own preference
Most people usually have a clear preference for one or the other. I am a BOTH kind of person. I usually like to have a heating pad on my neck to ease the pain and tension I feel there. But I will frequently combine this with an ice pack on my forehead. 
The combination of both temperatures is enough to distract me and confuse my brain. It's hard to concentrate on the pain of an attack when the brain is being surrounded by heat on one side and cold on the other. Ahhhhhh….a bit of relief!
Do it yourself hot or cold for migraine
Looking for some ways to try hot or cold for migraine without spending much on the supplies? Try some of these suggestions!
Hot options
Rice microwaveable hot pack – fill a long sock with uncooked rice and close the end by sewing it closed or tying it. Place in the microwave for 90-120 seconds. Test to make sure it isn't too hot and adjust the heating time accordingly. Place the homemade heating pad on your sore muscles for 15-20 minutes at a time.  
Hot towel method – wet a towel or dishcloth and place it in a microwave safe zip top bag, don't close the bag. Microwave for 2 minutes (it will be hot!), remove from microwave and wrap in another towel. Place on the sore area for 15-20 minutes. This is a great option for when you are traveling and have access to a microwave. 
Cold options
Homemade gel ice pack – combine 2 cups water with 1 cup of isopropyl alcohol (70%). Pour them into a quart sized or gallon sized zip top freezer bag, depending on how large of a gel pack you would like. Work to get as much air as possible out of the bag and freeze. I place it in another bag to protect against leakage. Freeze for at least an hour. Make sure to use with a towel between the pack and your skin to avoid frost bite. Can be stored in the freezer for future use. 
Dish soap gel pack – place dish soap in a zip top freezer bag and work out as much air as possible. Place this bag inside of another to guard against leakage. Freeze for an hour at least. Wrap in a towel before applying to skin. Can be stored in the freezer for future use.
Community recommendations – on a budget
Frozen bag of peas
Cold beverage from the fridge in a can
Ready made options to purchase
There are some wonderful hot or cold products for headache on the market. We have tested these and reach for them frequently. 
Cold products
Hot products