The Allay Desk Light is here! A year ago we were trialing the just introduced Allay Lamp, which has a narrow band of green light that is helpful for treating migraine. We have enjoyed using the Allay Lamp over the past year! It has helped reduce our overall pain and migraine light sensitivity and we found it can be extremely helpful in reducing nausea and vestibular migraine symptoms.
This year they have come out with the new Allay Desk Light. The Migraine Strong team received complimentary Allay Desk Lights in exchange for our honest review. There are so many features that we love about this sleek new light. It has been a welcome addition to our work space….and it still offers the same benefits as its older sibling the Allay Lamp. So which one should you add to your migraine treatment plan? We'll break it down at the end of this article. 
While Migraine Strong writes about the latest in migraine treatments, this is not medical advice. We are patient educators and all information you read should be discussed with your doctor.
Allay Desk Light – The streamlined version
When I received my complimentary Allay Desk Light, the first thing I noticed when I opened up my box was how narrow it was. It has a bit of a modern flair with the sleek white base that supports a thin leg with a folding arm housing the narrow band of green light. You set the arm in any position you prefer and it will open up to a full 180 degrees. 
There is a dimple in the front of the light that allows you to tap to turn on the light. It comes on in the green light mode. If you want it to dim, you press and hold the dimple to adjust your preferred brightness. 
If you tap the dimple again (just like turning it on), it will change to a regular white light. The white light brightness can be adjusted with the long press as well. 
On the base of the Allay Desk Light, you will see a gray pad with 4 lines on it. If you set your phone there while the Desk Light is plugged in, you can charge your phone!! Your phone must support wireless charging for the function to work. It also won't charge your phone when the Desk Light is unplugged.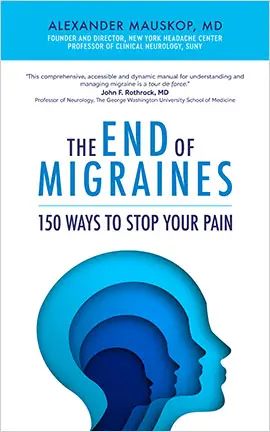 #AD
Eileen's experience
I am super light sensitive as some of you may have already read in my previous articles. The way I use the Allay Lamp is usually up over my shoulder and behind me so that I don't actually see the lamp. This way I get to use the light, get the symptom reducing benefits and continue to work, without having it in my direct line of sight. This is generally the way it works best for me.
The Allay Desk Light is unique in that it allows for a huge range of motion with the light being contained in the movable arm. I can direct it over my work without ever having to see the actual light.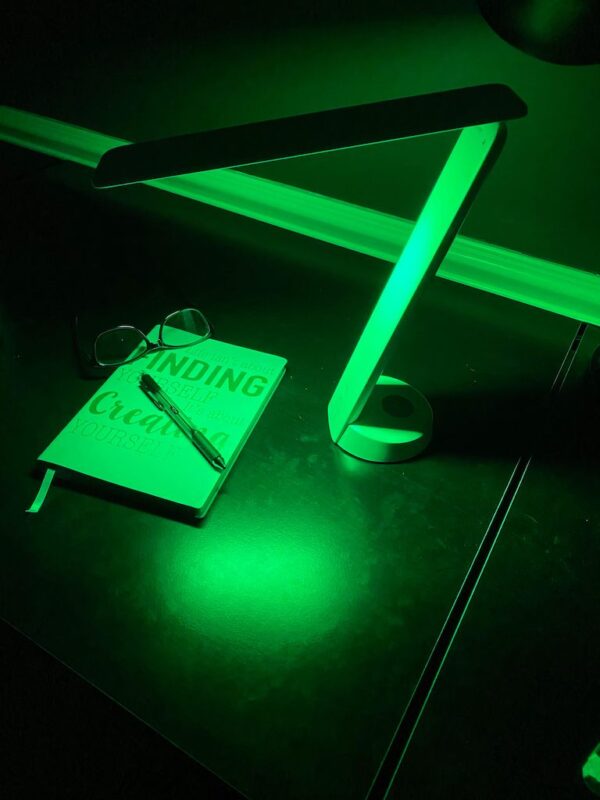 I have a love/hate relationship with light and more often than not, I don't want to have any light source in my field of vision if I can help it. This Desk Light allows me to control where I want the light to shine. This feature is beneficial if you are trying to work at a desk or chair without looking at the light. 
Admittedly, I might be the only person who is this bothered by light in their field of vision. But that is part of the reason I enjoy using the Allay Desk Light. 
Other beneficial features
It is also as portable as the Allay Lamp and holds a charge for up to 32 hours. As we head into spring weather, this charging feature is beneficial for more than migraine. We have used our Allay Lamp and the Desk Light during power outages!! 
I tend to keep the Desk Light plugged in next to my chair, so it's almost always fully charged. This is where I do most of my writing and where my phone might get a quick charge. When I move to my desk, the light comes with me and it's compact size makes it easy to carry and place on the desk amidst my work. 
While the recommendations for the using the Allay products is to use them in a dark room with no electronics, our jobs require laptops and devices all day long. We have tested them extensively in use with electronics and we still get great symptom reducing effects from the green lights.
The original Allay Lamp is in my bedroom. I use it during bad attacks that confine me to my room and as a bedside lamp. The green light therapy is so good for me when I am getting ready for sleep as well. It helps me to feel calm and relaxed.
I have also used both Allay products when cooking dinner at night and the overhead lights are just too much. They are both very versatile when it comes to how and where to use them.
Danielle's experience
I didn't buy the Allay lamp for myself as my light sensitivity had always been mild and was never really an issue. My eyes often burn and feel gritty due to chronic dry eye. The symptoms get worse when I spend long days in front of my laptop and devices. So, when the Allay Desk Light was offered to me at no charge, I figured I'd give it a try.
Imagine my surprise when I turned the lamp on while working at my laptop with an escalating headache and then felt a sense of relief wash over me. There was something soothing about the light for both my head and eyes. I loved how adjustable the arm was as it allowed either more direct light toward my face or more toward my laptop. It helped me focus on meeting my deadline with much less discomfort and more ease. I was truly surprised.
Knowing how helpful the desk light has been for me, I gave mine to a teen boy who has been having a very difficult time with migraine attacks lately. It's so unfair that some kids have to deal with migraine! I asked for feedback. He loves it and finds it calming. He says that the green light also "makes words easier to read" so getting through his homework assignments is more pleasant and efficient.
I will be putting in a new order so I have one for myself again.
Jenn's experience
I was SO excited to receive and try out the new Allay Desk Light. If you read my first review of the Allay lamp for vestibular migraine, you know how much I love it. It's been such an amazing treatment strategy for me. Because I spend so many hours on my laptop each day, I decided to use this new one as a permanent fixture on my desk. I now use the original lamp in a more portable manner throughout the house. My new Desk Light works every bit as effectively to reduce my head pain. It has nearly eliminated my nausea, and reduces screen fatigue.
Beyond its sleek handsome design, here's what I noticed first when turning on this lamp. It allowed me to see the benefit of the soothing green glow without having to see the illuminated bulb portion of the lamp you see on the Allay Lamp. If you are a person who sees the ads and thinks it may hurt your eyes, I think you'll find this light more visually pleasing. Let me be clear in saying the original lamp does not in any way hurt my eyes. I love it and find it incredibly comforting. But, the desk lamp does allow me to direct the light where I need it. And because of its flexibility, I find it easier to read too.
So which one is my favorite?
The dimming feature is great as sometimes I need as much green light as I can get. While other times, just a subtle green glow is the most soothing. I love that I can direct the green light right over my keyboard. This helps reduce the harsh stimulation of my laptop screen reducing screen fatigue. My work day almost never ends with an impending migraine attack. I know I owe that win in partial to my Allay lamp.
I'd recommend the Desk Light if you'd like a less expensive option with more control over where the light lands. Or if you'd like it for your bedside table to read by or on your desk to lessen screen fatigue. If you often retreat to a darkened room in the midst of an attack I'd recommend the original lamp.
For me the original has better portability. It has better ability to fill more of the room with its soothing green light too. You truly can't make a bad choice in purchasing either Allay lamp option. Either way, I think you're going to absolutely love your choice!
A little science about green light therapy
I spoke with Dr. Rami Burstein, professor of anesthesia and neuroscience at Harvard Medical School and vice chair of Anesthesia, Critical Care and Pain Medicine at Beth Israel Deaconess Medical Center in Boston, last year. He explained the history behind the Allay Lamp and its correct use. 
During his research, Dr. Burstein and his colleagues found that various wavelengths of light affected migraine patients very differently. Blue and red were the most painful and yellow (amber) and white were slightly less painful.
However, with a narrow band of green light (530nm), the headache pain actually decreased along with other symptoms commonly described by migraine patients (Brain, A Journal of Neurology, 2016). These include symptoms 'like dizziness, lightheadedness, shortness of breath, increased heart rate, increased blood pressure, tightness in the throat, teary eyes, stuffy nose…in patient after patient it decreased the headache and decreased the magnitude of all the autonomic symptoms'. (Migraine World Summit Interview 2020, Dr. Rami Burstein.)
Allay Desk Light compared to Allay Lamp
So which should you get? The Allay Lamp or the Allay Desk Light. They are both similar in regards to the benefits we get from them: reduced overall migraine pain and symptoms, a calming feeling before bed, portability and using it in electrical outage situations. And both have the same narrow band of green light (approximately 530nm) which eliminates the other wavelengths of light that are in a regular green light bulb or LED. This narrow band of green light makes all the difference for people with migraine.
The real differences were added to the Allay Desk Light. It has the added benefit of being able to adjust to illuminate material you are working on. And it also has a wireless charging feature on its base, but it will only charge your phone if the Desk Light is plugged in.
Pricing
The other difference is in price. The Allay Lamp is sold for $199 and the Allay Desk Light is sold for $89. (You can receive a 10% discount for either one with code MIGRAINESTRONG at this link.) There is a $45 difference between the two. I think for those who have the Allay Lamp and want to leave it in their room, having a second one for your working area could make sense. I love having both of them because I don't have to remember to grab the lamp to take it upstairs when I'm ready for bed. 
Because both the Allay Lamp and the Allay Desk Light both offer the same benefits to people with migraine, you can pick which one you like the look of best and go from there. The Desk Light has a bit more modern look to it while the Allay Lamp is like a pillar candle shape. Which one would look better with your decor?
Conclusions about the Allay Desk Light
The Allay Desk Light is a great addition to our migraine tool kits. It allows us to position our Light exactly where we want it which is one of the best features. And all of the benefits of the green light therapy are still there. One other simple fact is that it is a little less expensive than the original as well. It is currently selling for $89. If the Allay Lamp was out of your price range, the Allay Desk Light is what you have been wishing for!!