With the holidays approaching you are undoubtedly looking for some gift ideas for kids in your life. Since I have been diagnosed with chronic migraine, I've given up fighting the long lines, crowds, and fluorescent lights of the malls to get my family gifts. My shopping experience now involves sitting on my couch and happily placing orders through Amazon Prime in my yoga pants. I don't know why anyone would do it any other way!
Here is a list of my top 15 gift ideas for kids of parents with migraine. These are quiet and calm toys and activities that the kids can play with on their own or with their parent. This list also includes helpful products which moms and dads with migraine will find useful while parenting with migraine. Most of these toys/products are tried and true by myself and my two kids, Liam (5) and Ella (3.5). They are best for ages 18 months – 5+ years old and beyond.
1. Craft Box
We love this My Giant Busy Box by ALEX pre-made craft box. My kids got it as a Christmas present from a family member last year and have been playing with it all year. This box contains 16 projects! I give my kids 1 project each and let them use their imagination and have fun with it!
Here is a similar craft box but it only contains one craft! Another craft box for ABC lovers!
2. Easle
An Easle would make a great gift for a little budding artist which will be used for years. You can also get this adorable smock with supplies. Complete the gift with an art cart (IKEA has great ones).
3. Sticker Pads and Coloring Book by Melissa and Doug
Melissa and Doug Reusable Sticker Pads have been our favorite since the kids were toddlers! The stickers can be placed on the included scenery pads, fridge, mirrors or windows. They are perfect for traveling in the car, using at the doctor's office, at home or at your destination. 
Check out these genius Melissa and Dough No Mess Coloring Pads. They are fun and can be used right next to you on the couch. The great thing about the included marker is that it contains invisible ink and will not show up on anything other than the pad it comes with! My kids were using these around 2 years old. We brought them on car trips, doctor appointments and they love using them around the house.
4. Lacing Toys
These lacing activity toys develop hand-eye coordination, hone attention skills, and most importantly keep your child occupied for quite some time.
5. Animal Figurines
Schleich makes lifelike animal figurine sets with elaborate details. This wild life starter set is my nephew's favorite! My sister pairs it with this Safari roll-up play mat from Etsy. And how about this awesome ocean set of animal figurines that would go perfectly with this roll-up mat.
6. Tablets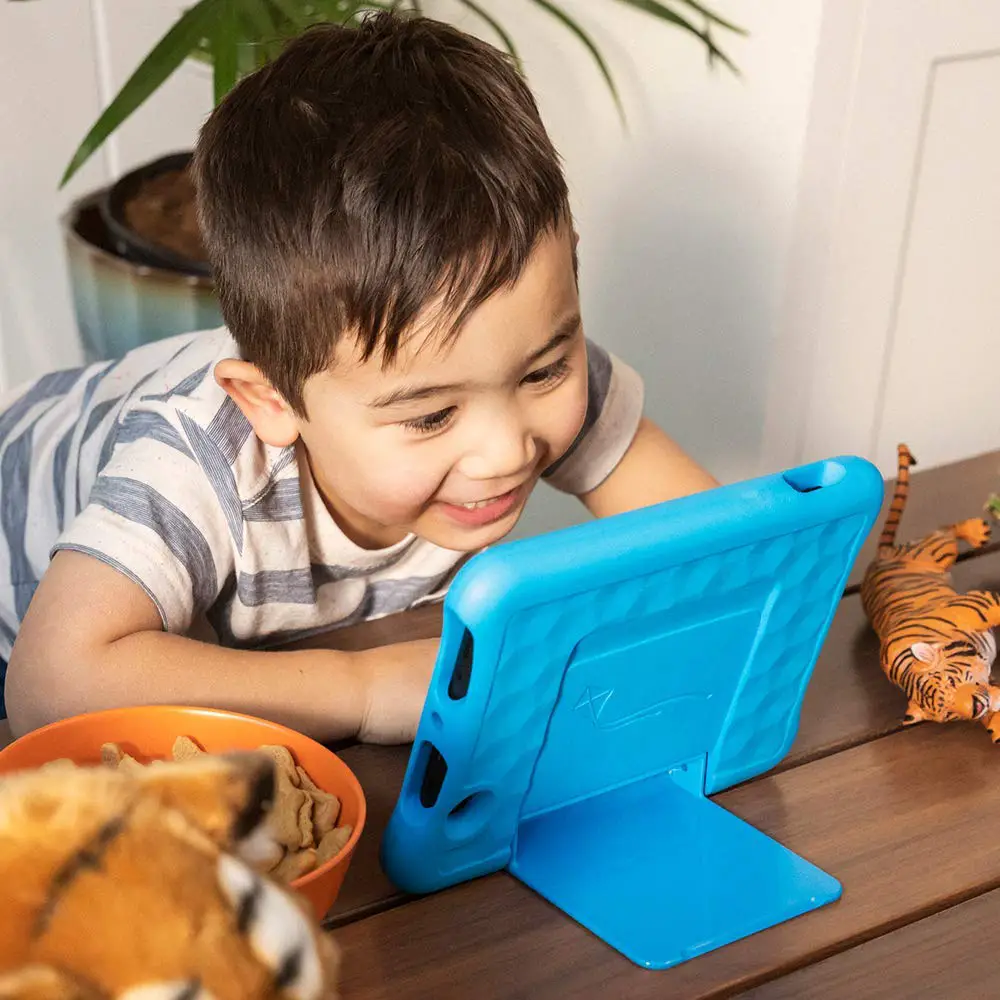 My kids have Amazon Fire Kids Edition tablets which come with unlimited Free Time for the first year and a 2 year warranty. They are good for interactive games and read along stories. These tablets have gotten me through some tough days, nights, and car trips and I cannot recommend them enough. This is by far one of the best and most appreciated gift ideas for kids of parents with migraine in my book.
7. Pattern Blocks
This pattern blocks and boards toy includes wooden shape pieces and encourages kids to learn shapes and colors. It comes with 10 colorful design templates. My son started playing with this activity around 2.5 and now at 5 he and his sister still play with it.
8. Dollhouse
Dollhouses are such fun and big gift ideas for kids to last the entire childhood and beyond. Both my son and daughter love playing with their dollhouse. Whether they use the dolls or the transformers while playing it's always a good time. Best of all, they can play with it while I am folding laundry or laying down next to them. We used to have this small dollhouse suitable for younger children before we graduated to the big one.
9. Play Kitchen
A play kitchen like this is another big gift which keeps on giving. You can pair it with play food below and this cute apron and chef hat set.
10. Wooden Cutting Play Food
This Wooden Cutting Play Food Set by Melissa & Doug is an amazing set which can be used as pretend food and to practice cutting skills. A set like this would also make a perfect addition to the play kitchen gift above! I introduced these sets to my son when he was 2 years old and both of my kids continue to use them when playing with their play kitchen. Here is another set with different fruits and vegetables. We have and love both.
11. Lego Duplos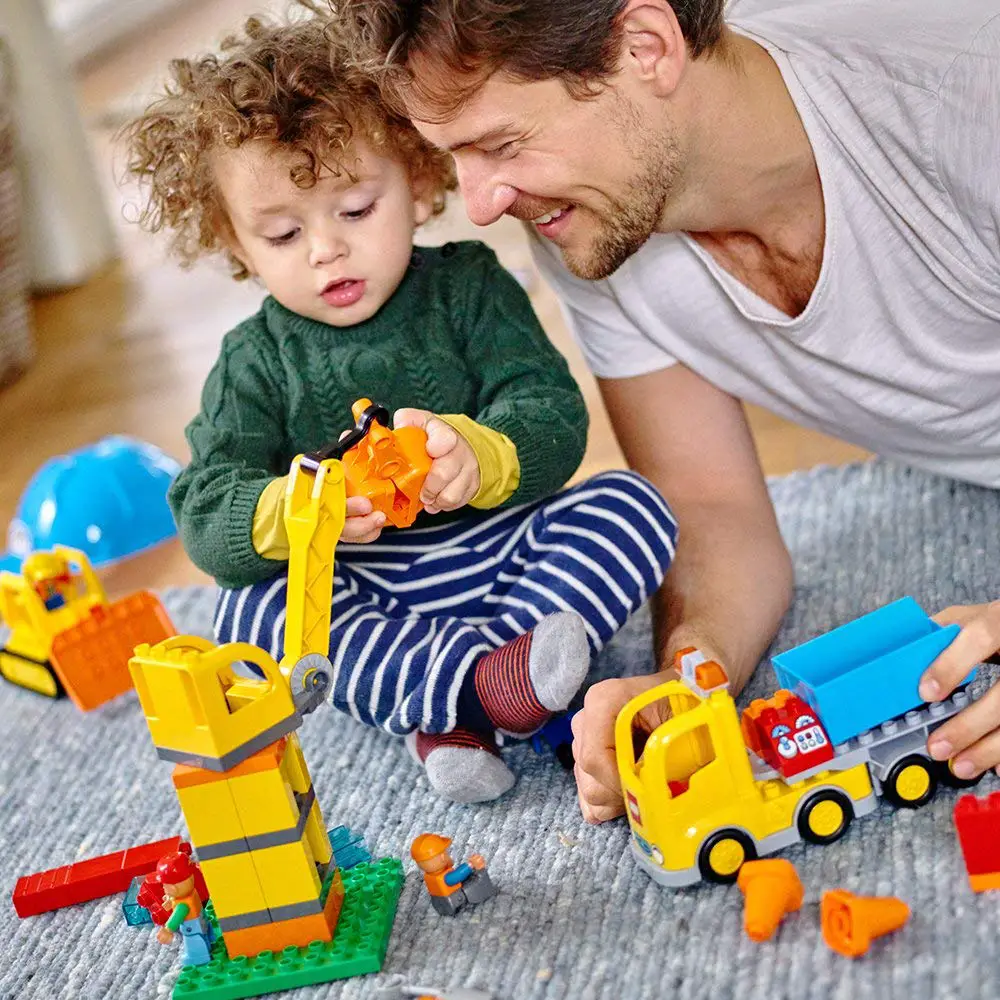 Lego Duplos are the beginner sets for the famous Legos. These pieces are much bigger than the original Legos. My kids started playing with these at 1.5 years old! There are so many different sets depending on your little's interests. This was my son's favorite set when he was younger and at 5 he still enjoys building it. Here are also lots of choices for Disney princess lovers.
12. Puzzles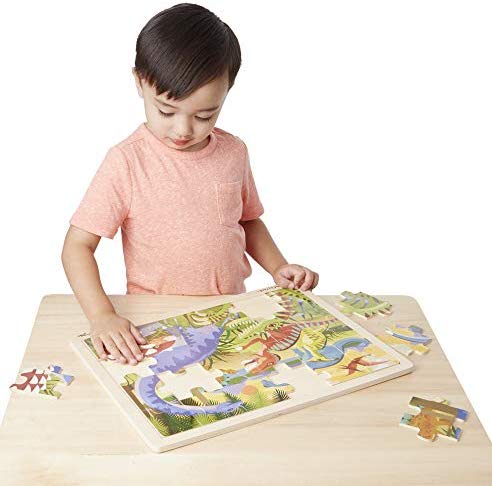 Puzzles – we love Melissa and Doug puzzles and they have an amazing selection for the kids of all ages.
13. Bentgo Lunch Box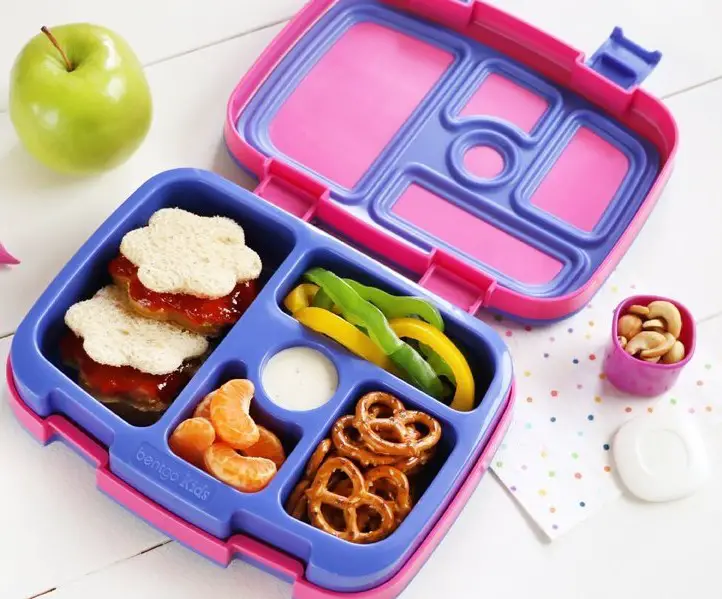 Bentgo Lunch Boxes make parents' lives easier! Well they make my life easier, that's for sure. So this gift may be a little too practical, but it is not any less exciting! I would say this makes great gift ideas for kids and parents! A sturdy lunch box with individual compartments which eliminates the need for multiple plastic containers and zip lock bags is a mom's best friend. Making the kids' lunches in the morning is much easier with the Bengto box. And the kids enjoy their lunch much better when they see their colorful food before them in a nice organized way. Bentgo offers a 2 year warranty. We already took advantage of it and I was pleased with their lovely customer service!
14. Huggaroo Weighted Blanket
This weighted blanket works the same way tight swaddling helps newborns feel snug and secure. The blanket can help a child's sleepless nights which can let mom get a good night's sleep as well. It can also provide a parent a better way to manage their child's sensory processing disorders.

This weighted blanket is designed with a two-part construction: cover and blanket. The cover is removable providing easy maintenance and protection from repeated washing. It comes in different colors: blue, pink, red and teal. It also comes in 5, 7, 10, 15, and 20 lbs. This high quality blanket is hypo-allergenic, non-toxic and odorless.
15. Huggaroo Weighted Lap Pad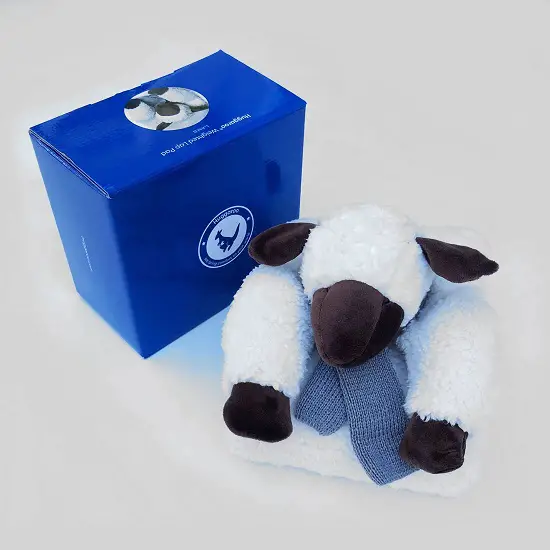 Huggaroo Weighted Lap Pad – This lap pad is an awesome snuggle buddy, study buddy, and sleeping buddy. Kids love to snuggle, read, study, watch TV, eat, and travel with their Huggaroo weighted lap pads. This lap pad is portable which makes it a great travel blanket alternative. It makes a cute, plush sleeping pad buddy. You can get either a sheep or puppy. (It's 3.6 lbs. The dimensions are 29 x 8 inches. It is 100% washable.)
What NOT to buy for kids of parents with migraine:
What not to buy for the kids of moms and dads who have migraine is probably an even more important topic. Do not buy:
Toys that make noise or flash.
Anything that has an "on" button.
Toys or activities that make a lot of mess.
Toys that have a lot of small pieces.
Play dough or kinetic sand sets. Let their parents purchase these items at their own discretion because it involves supervision and cleanup.
DO bring a receipt in case the gift becomes a trigger and needs to be exchanged.
For additional ideas, check out our Top 10 Gift Ideas For People With Migraine and Gift Ideas For Moms With Migraine