This Cove migraine review is based on our own use of the services. We were not paid for our opinions. However, we may earn a small percentage from any purchases made through our link.
Finding a new doctor, especially a specialist is daunting. I recently undertook this stressful process as I moved from a part of the country where headache specialists were plentiful to my new home with very few options.  And, of course, the wait for an appointment was months.
Even the general neurologists in my area are booked for months. While my primary care doctor is convenient, her competency in migraine is lacking. About a year ago, she gave me a prescription for 30 sumatriptan tablets per month.  Bless her heart for wanting me to not suffer, but I cringed when I saw it. For the time being I was all set with plenty of medication, but I knew I'd need to find a more knowledgeable doctor.
In the late winter, I began to get concerned as my sumatriptan (that I limit appropriately) was noticeably less effective for the times I needed it. My head pain was different and more stubborn. I knew it was time to find a doctor with better migraine skills than my friendly GP, but I didn't know where to go.
When I was chronic and debilitated and medications were not working, I would have moved heaven and earth to find a headache specialist to help me. I found an excellent team at Jefferson Headache Center in Philadelphia and steadily improved over the course of a year. Things are much different for me now that my migraine attacks are less frequent. I do not want to travel. Is it too much to ask for a convenient doctor that knows how to treat migraine?
Doing my research
Telemedicine and Online Consultations
One of the major benefits coming out of the COVID pandemic has been telemedicine. In the past year my family and I have had several positive experiences with getting quality care from the comfort of our own home. So, the ads for Cove in my social media feeds that I had previously just scrolled past began to get my attention. I didn't see a published Cove migraine review but I was aware of the service.
I'm a born skeptic so I not only read most of the content on the Cove website, I made excellent use of the search feature in many social media groups. I wanted to know what other people were saying. Could I learn from their experience? I read many posts about Cove and found comments were overwhelmingly positive. 
I was instantly impressed when I learned of Dr. Alexander Mauskop's involvement with Cove. I have been an admirer of his since the 2016 Migraine World Summit when he did a fantastic presentation on evidence-based, non-medical treatments for migraine.  He is a prominent headache specialist with migraine.  He understands migraine as he has migraine and is passionate about helping others with this miserable condition.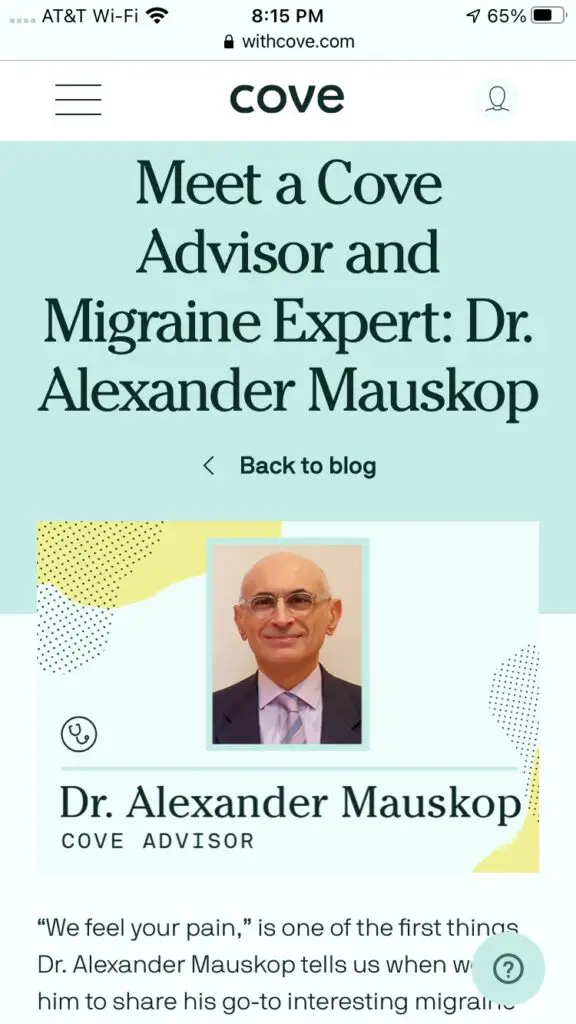 Thinking about what I needed
I knew I no longer needed the care of a big headache center (thank goodness!) What I needed was a doctor with special interest in migraine. Someone who understands the many options we have today and how to use them best to minimize the frequency and intensity of attacks. I'm not complicated but I still need migraine expertise. The more I thought about it the more I realized that Cove was worth a try even if there wasn't a more thorough Cove review available.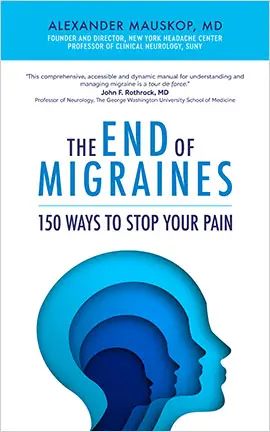 #AD
My Cove migraine review
First, a little about the costs
I don't do anything without knowing how much it will cost me ahead of time. I wrongly assumed I'd have to pay a lot more than I currently pay at my local pharmacy as Cove does not work with insurance companies. Compared with my insurance plan, Cove was a better deal for me AND delivered to my doorstep. Their plan shipped more tablets per month,15 tablets instead of 9. Per tablet, Cove's cost is $1.13 compared to $1.66 with my insurance.
Cove fees are easily found on the website and comparatively affordable. Typical treatment plans are between $20-$79 dollars per month depending on what is prescribed by your migraine doctor.
The online consultation with the Cove doctor is $4.00. That is not a misprint. $4.00. So, even if you go through the process and choose to not move forward with the treatment plan, your total risk is $4.00. There is no catch. And, for $4.00 per month you have continued access to your doctor.
The Cove process
It all starts with an online consultation that you can do from a desktop or mobile device. They ask a lot of important questions about your symptoms and medical history but none of the questions were extraneous. I didn't have to detail things that have nothing to do with migraine like my knee surgeries or c-section. The questions were all pertinent to helping the doctor find the right treatment plan.
Toward the end of the questionnaire, they use the camera on your device to take 2 short videos that are similar to what a neurologist would have you do during an office exam. It was amazingly simply to do!
I completed my questionnaire on a weekday around 2:00 pm. My doctor responded with a treatment plan at 6:30 pm.  I was impressed and excited to see what he had for me! He sent a brief note and the below prescription.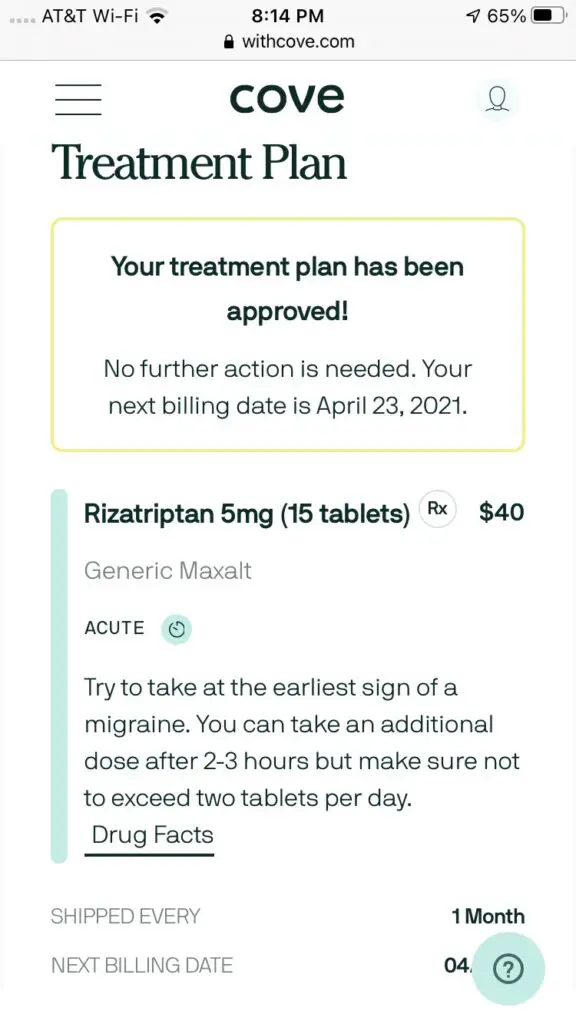 The next step for me was to review my plan and either approve it or contact my doctor to discuss other options.  Once approved, the medication ships within 48 hours.  It all comes together quickly.
From the moment I started the process, Cove gave me updates and checked-in with me.  The process was smooth and helped me feel cared for. This is surprising since everything was done online.
What was great about my Cove experience
Expertise – I needed a doctor with expertise in migraine and Cove met that need. There is no expertise available to me in my area without waiting for months for an appointment.
Convenience- I literally did everything from my kitchen table.  I didn't have to make an appointment and sit in a waiting room or go to a pharmacy.
Speed- My treatment plan was completed in a few hours. I approved it and my medication was shipped to my doorstep. I didn't have to wait for an appointment nor drive somewhere far nor deal with weather challenges.
Access to my doctor – I had a question and my Cove doctor responded quicker than my GP does. I can contact him any time and expect a prompt response. No need to schedule a follow-up in a few months as I can just send him a note.
Cost – Not only are my medications very close in price to what I'd pay with my insurance, I have unlimited contact with my Cove doctor. Cove is budget-friendly for me.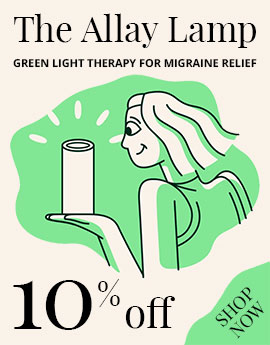 #AD
My only 2 disappointments
A change in my acute medication – My doctor explained his rationale and I agree with it, but I had to ask for the reason. He offered to change the prescription to my previous medication but I truly believe it's time for something different. He noted that I had said my attacks were changing and becoming more resistant. Logically, a new approach might help.  I was just not expecting the change. Now that I've tried the new medication, I'm happy he changed it!
Lifestyle suggestions – well, you know us here at Migraine Strong. We advocate for the right medical treatment plans as well as all the other wedges of the Treatment Pie. I wish he had suggested some resources as he had no way of knowing that I was already doing a lot with lifestyle.
It's my understanding that Cove is available only in the United States. They are not able to provide services in all states but their coverage is growing quickly.
As you can tell, this is a positive Cove review as I am very satisfied. I enthusiastically recommend their services for people with infrequent, episodic migraine episodes.
Who may benefit from Cove?
It's not just my opinion, data shows that most people with migraine wait far too long to seek help from a doctor with migraine expertise. According to The Migraine Research Foundation, only 4% of migraine sufferers who seek medical care consult headache and pain specialists. How can we get good care if we cannot see doctors trained and skilled in treating migraine?
Most people with episodic migraine are not properly diagnosed so they are not getting proper treatment. Did you know that as much as 90% of the time, people with sinus headache are misdiagnosed? Migraine often masquerades as sinus headache. How about this other not-so-fun fact: A significant percentage of us are treating neck pain when our pain is actually part of migraine. If we had better treatment for migraine, our neck pain would likely improve. Personally, I spent a lot of time, money and energy on treating my neck when I really just needed a better plan for my head.
2 categories of people with migraine who would benefit from Cove
In my opinion, this service is highly needed and would be helpful for:
Those people who are managing episodic migraine with their primary care physician and not seeing significant improvement. It's time to advocate for yourself by seeing doctor with expertise in migraine.
People with no insurance coverage or poor coverage. Check out the costs by clicking "Our Offering" on the Cove site and get yourself an upgrade in managing your head.
Much of my day is spent in social media channels. It's so frustrating to see people limited by the insurance companies (like TriCare) to doctors with no expertise in effectively helping them get migraine under control. When someone has infrequent, episodic migraine it's time to jump on it and get it under control. It's so much harder to manage migraine once it "chronifies."
It's equally frustrating to see people taking over-the-counter meds too often when there are much better options to manage migraine and their overall health. Personally, I ruined my stomach from OTC meds and can't use them anymore.  I have few options for basic pain relief now.  If Cove was available years ago I would have taken advantage of it, saved my stomach and not lost years to poorly controlled migraine.  
What products Cove offers
I was impressed with the variety of medications available to us. Not only do they have the most popular acute and preventive medications for migraine, they offer a less-known but highly effective NSAID called Cambia. Cove also offers anti-nausea medications that often do double-duty in aborting attacks. And, of course, I must mention that they offer 2, anti-CGRP medications which have been added to their list recently. Please see their FAQs about the anti-CGRPs as these medications are dispensed through your local pharmacy and through your insurance plan.
Cove also offers more than just consultations and medications. They also offer good, evidence-based nutritional supplements that we tout often in our Facebook group. They offer a 3-in-1 powdered mix of Magnesium glycinate, riboflavin and Coenzyme Q10 called Beam as well as those 3 nutrients sold as separate capsules.
At the time of the publication of this article, these are the current Cove products:
Acute Medications: sumatriptan, rizatriptan, rizatriptan ODT, eletriptan, naratriptan, zolmitriptan, CAMBIA, Nurtec ODT
Anti-nausea Medications: ondansetron, ondansetron ODT, metoclopramide
Preventive Medications: topiramate, amitriptyline, nortriptyline, propanolol, metoprolol, Emgality
Nutritional Supplements: BEAM (magnesium, riboflavin and Coenzyme Q10 powder), magnesium glycinate, riboflavin, Coenzyme Q10
My contact with Dr. Sara Crystal, Cove Medical Director
Based on my experience and so much positive feedback from others in our community, I am very excited by the way Cove can help our community. Those with lousy local access to quality migraine care as well as those without good insurance will finally be able to get expert advice.
I asked to speak with Dr. Crystal so I could ask her the following questions. She has an impressive background and tremendous experience dedicated to people like us. During our conversation she seemed very practical-minded, real, lovely and happy to talk about the work they are doing.
Please tell me about the typical person benefiting from Cove.
Our typical patient is a woman between the ages of 20 and 50, with episodic (low and high frequency) migraine. Over 75% of Cove patients have 4 or more migraine days per month. Most of our patients (close to 75%) live in areas without access to migraine care/headache specialists, and 38% don't have easy access to any provider who can administer migraine care. 
What has the feedback been like for Cove?
We hear from our patients all the time how impactful Cove has been in helping them manage their migraine, and how they feel they've been able to truly connect with their Cove doctor. We regularly reach out to our patients to get their feedback and check in on their progress, and in a recent survey, 77% of Cove patients experienced an improvement in their migraine after 3 months. Patient feedback is so integral to what we do here at Cove, and we truly value it and use it to consistently improve their experience.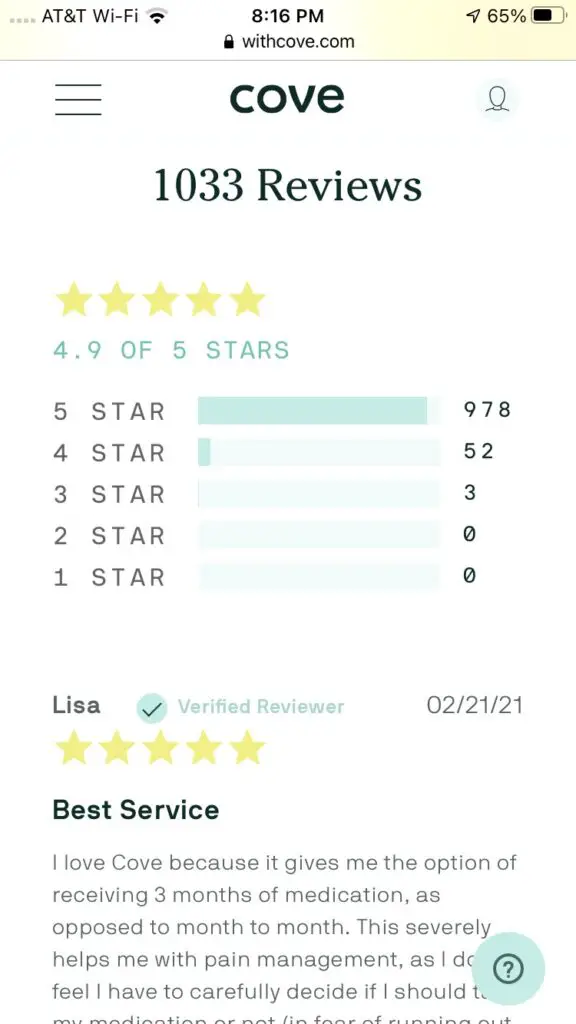 As Cove's Medical Director, what are you most proud of?
I am most proud of how well our patients feel cared for.  So many patients comment that they feel they are being listened to and understood for the first time in their migraine journey.  I am proud that we provide excellent migraine care to patients that lack access to treatment, due to multiple barriers.
What are you most excited about?
We aim to provide comprehensive migraine care. Non-medication and lifestyle approaches can benefit all migraine patients, and our blog articles address many of these topics. One of our latest initiatives is to explore more programs to help educate our patients on the connection between their mental health and migraine. We are always expanding our available treatment options for patients, and strive to provide them with tools to manage their migraine care journey.
You can find out more about Cove here. Being part of the Migraine Strong community gets you 60% off of your first month of medication.