This post may contain affiliate links. Migraine Strong, as an Amazon Affiliate, makes a small percentage from qualified sales made through affiliate links at no cost to you.
Traveling with migraine can be…challenging. There are so many problematic aspects to it. The excitement, extensive planning and packing, remembering to pack all of our meds and supplements, and planning for head friendly meals away from home are just a few. I have found that if I plan ahead, I can mitigate some of the normal triggers that happen when I travel.
** While Migraine Strong writes about the latest in migraine treatments, this is not medical advice. We are patient educators and all information you read should be discussed with your doctor.
Building The 'Perfect' Plan
Anyone with migraine knows there is no such thing as the perfect traveling plan. The best laid plans are usually gleefully thwarted by migraine. But, this plan starts when I decide to go on the trip in the first place. Whether I am driving or flying, I always try to make some lists and consider where I am going, who I am traveling with and how much time I will be gone? Once I know all of that, I start with the lists.
Start backwards from the departure day – I make a list starting the date of departure and work backwards to figure out when I need to start packing. This includes when to order the supplies I might need for travel. By doing this, I'm never surprised the day before we leave and run around for supplies. I also make sure to include on that list getting my suitcase out a week early and starting the packing process. This eliminates the stress let down attack that sometimes happens from trying to pack all of my supplies in the last day or so when I run out of time. Also include kenneling any pets, turning off the water in the house, setting the thermostat, etc.
Down time for the day after travel – If possible, I like to have a little downtime the day after I arrive. I am most likely to be hit by an attack the day after the travel day. This day can be used for me to recover and others to explore. If I don't have an attack, I'm exploring right along with them.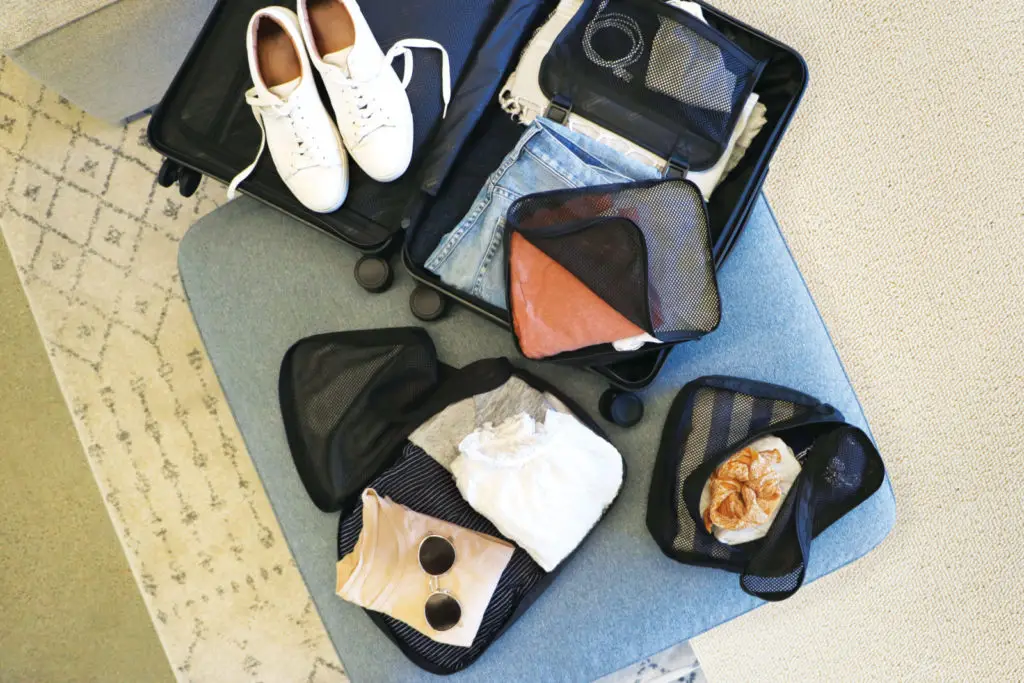 Preparing For Flying Success
Over the years, the biggest problems I have with traveling is the excruciating migraine attack that always seems to follow a flight. It sometimes is triggered during the flight but always within hours of landing. The pressure changes in the cabin can really do a number on my head. Ask your doctor about the following options:
Dexamethasone – This is a neuro specific steroid. A low dose (4mg) the day before, day of and day after flying can offer protection against those pressure related migraine attacks.
Diamox (acetazolamide) – This prescription preventive medication is used also to treat altitude sickness. Taking Diamox prior to and during your flight may help you avoid a migraine attack.
Acute medication – Premedicating prior to your flight is an option that some headache specialists recommend. Keep in mind that this goes towards your total for the week/month so if your are towards the chronic end of the migraine spectrum, use this option with that in mind. Ginger is always a good option as well and our blog can give you the needed information. A decongestant like pseudoephedrine can also help prevent an attack and can be taken prior to your flight as well.
The Well Packed Emergency Kit
Traveling with a stocked emergency kit is essential to anyone with migraine. Having our trusty supplies at our fingertips is necessary to head off an attack or treat one that is at the point of no return. Making sure I have my emergency kit as well as my preventive meds in my carry on is imperative. Lost luggage means lost medications if they are stowed away. And while I always hope for the best, I plan for the worst…delays. There is just about nothing worse than being delayed at an airport unless it's being delayed for hours inside an airplane on the tarmac with no supplies!
Essentials For The In Flight Emergency Kit
Emergency Kit – Always have your emergency kit packed and ready to go. All kits are a bit different but some helpful things to consider packing would include (Benadryl, triptan, ergotamine, Ibuprofen, Naproxen, Dramamine, Valium, Ginger, peppermint oil, Migrasoothe, Migraine Stick, ear plugs, ear buds, sunglasses, Migraine Shields glasses, ice bag or empty Ziploc for emergency ice packs, eye mask for darkness etc.) **If you are using essential oils like Migrasoothe, peppermint oil or Biofreeze on the plane, make sure to ask those sitting next to you. While it helps many of us, it also can bother others. Be courteous to other travelers.
Water Bottle – Take an empty refillable water bottle with you that you can fill in the airport (beyond security). Fighting dehydration is key during air travel. Stainless steel bottles won't sweat and will keep water cold longer.
Head Friendly Snacks – Choose some safe snacks for you to eat on the plane. Especially if there is a long delay on the tarmac, you don't want to be reliant on what the airline has to offer. (Some ideas below.)
Blisslets – These acupressure bands provide relief from dizziness using pressure points in your wrists. (Get 15% off with code MIGRAINESTRONG15)
Dramamine, Bonine – These can also provide some relief from dizziness and nausea. They are best to take before the nausea really hits.
Rescue Medication – Having a fast acting benzodiazepine like Valium in your emergency kit is a good idea if you are concerned about having a vestibular migraine attack on the plane. If you have VM, you can call ahead and ask for a guide to walk you through the airport and even get you to your seat.
Notes App – If you have difficulty communicating during an attack, add a few lines to your Notes app on your phone that you can point to and communicate with others. This could be as simple as 'Having a migraine attack and can't speak', 'Could you please get me a drink of water?' Whatever you find could be helpful during an attack.
If you are traveling outside of the country with medications and supplements, make sure to check out this link with the CDC.
Navigating The Friendly Skies
Once I'm in the air, I like to try to make traveling with migraine as pleasant as possible. My ears can be a real problem because they get clogged and generally can't compensate for the pressure changes no matter how many times I try to swallow or chew gum or any of the other tricks that are recommended. It is always my goal to remain calm and use my tricks to keep my ears clear and my head under control. Even though I don't have much control over the environment that I'm in, I do my best to make my seat area as migraine friendly as possible.
Essentials For Flight Comfort
Car Travel Tips
Most of the tips above also apply to traveling with migraine by car. Premedicating before you leave in the car, Sea Bands, Dramamine/Bonine, Emergency Kit, Valium, Noise Cancellation Head Phones and the Calm App are key. A good pair of sunglasses are important for car travel. For nausea, I find that never having an empty belly is the single most important thing for me and the kids. Empty bellies mean a greater chance of nausea on a car ride even when we don't have twisting and turning roads.
Essentials For Car Comfort
Ball Cap – This can be another type of hat so long as it can be pulled low to block out the sun. Have you ever driven through trees when the sun is shining through them and there is that strobe light effect going on? Ugh! Sunglasses can't help this strobe effect. It must be blocked with a hat, hoodie or maybe a sleep mask…as long as you aren't driving!!
Blanket/Throw – If traveling in the winter (or summer depending on your travel companions), having a throw in the car is essential to keeping everyone happy. Especially if you don't have dual climate controls.
Pillow – In case you need a nap.
Plug adapter – This is great for using a heating pad on long drives.
Cooler – To pack head friendly snacks and drinks.
Plastic Container with Lid – This is for a nausea emergency in case you don't have time to pull over. We have used this more than once for the kids. Keep it within easy reach. Trust me.
Travel Snacks Ideas:
Chips, crackers, pretzels, granola bars
Cut up apples and pears
Homemade pasta or chicken salads
Cheese sticks, chunks of cheese
Celery and carrot sticks
Strawberries, grapes, cherries, blueberries
Sunflower and Pumpkin Seeds
Hardboiled Eggs
Almond butter (Keto)
Coconut butter (Keto)
Olives, Jerky (Keto)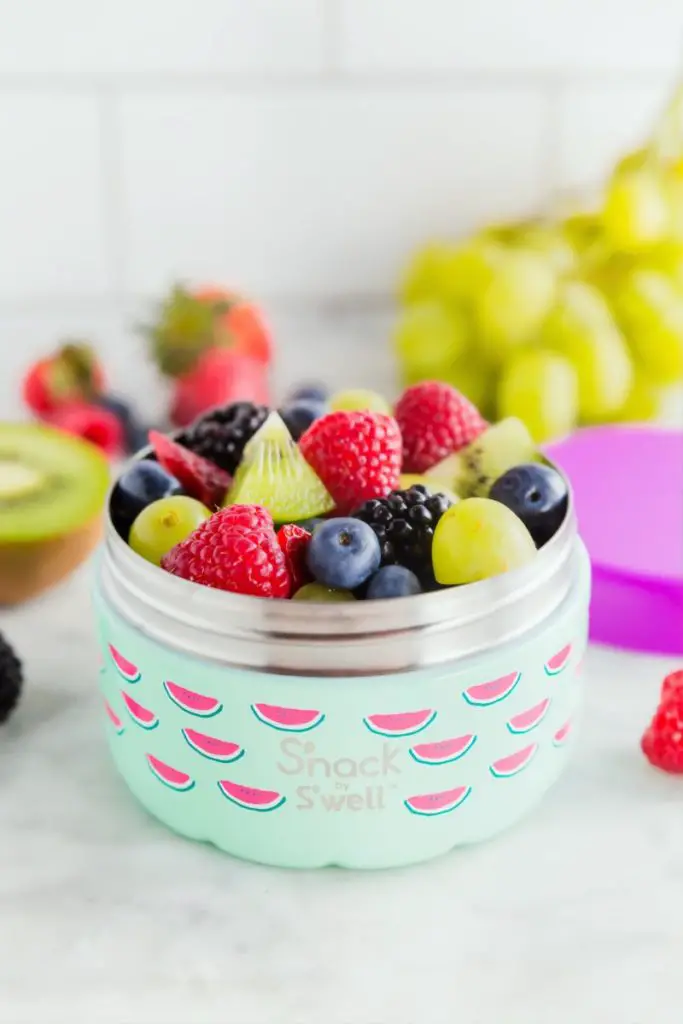 Arriving At Your Destination
Are you staying with the in-laws? A friend? Or maybe you have booked a vacation home for a getaway? Have groceries delivered via Instacart shortly after you arrive at your destination. Having your head friendly food show up without any fuss is such a gift. Navigating unfamiliar grocery stores while jet lagged and car weary is a pain. And not explaining or negotiating about your migraine diet is a bit of sorcery that everyone should master. Just food delivered and ready to go. Ahhhhhh.
Checking out restaurants before you go makes traveling with migraine easier. Having a few standard 'safe' orders that you can get at most restaurants will help you order with confidence and enjoy the outing. Most plain burgers, steaks and fish are safe to order with a baked potato with real butter and steamed veggies. Plain french fries with salt as the seasoning are usually fine as well. Many pastas with fresh veggies like a primavera will also be a good choice, just skip the cheese on top. Even salads can be fine if you either take your own dressing or just toss it with salt, pepper and olive oil.
Obviously, if you have reached the reintroduction phase of the diet, then you have many other options to choose from. These are just a few that we usually recommend. In general, stay away from soups and sauces which will usually have MSG in them.
We hope you have found some good tips in this blog and have some amazing trips very soon. When you do, we hope you'll come and tell us about it in out Private Facebook Group. We love to hear about your success stories!!
Amazon and the Amazon logo are trademarks of Amazon.com, Inc, or its affiliates.