It usually starts out the same way. I feel tingling in my temple on one side of my head.  I stop what I'm doing and listen to my body. Was this a false alarm? As I walk to the kitchen to retrieve my Ginger supplements, I now feel the nagging and aching sensations in my neck on the same side. I am pretty sure a migraine attack is on the horizon so I devour two Ginger capsules. My hope is they will keep the pain away because parenting with migraine was not on the calendar today. (Spoiler alert: they don't). 
While Migraine Strong writes about the latest in migraine treatments, this is not medical advice. We are patient educators and all information you read should be discussed with your doctor.
Navigating through conflict in pain
It's 7:30 a.m. and I hear my kids, Ella and Liam, in the playroom arguing. Their sweet voices, which most of the time are my favorite sounds, seem unbelievably loud and make me cringe. They are upset because they both want (no NEED) that one blue rescue bot. Apparently, they do not want to share this morning. Never mind that we have two exact same ones. Or that we have an entire bin of rescue bots generously gifted to them by their grandfather. 
I grab the rescue bot and his entourage and put them all away. I then tell the kids that my head hurts today. Immediately I take note of their disappointed faces. Only half a year ago letting them know that my head hurt did not elicit such a reaction. The older my kids get the more they recognize the effects migraine has on them and our family. Since I've been parenting with migraine, the challenges have only been getting bigger.
TIP: I love this article by American Migraine Foundation about how to explain your migraine to your children and encourage you to read it.
To lighten the mood, I remind them that we are going apple picking this afternoon with their friends. Just like that, they forget about their argument and start happily chattering about apple picking, our favorite fall tradition, for which they have been waiting for weeks.
Morning routine
The morning routine is never without its own challenges even when I am not in pain. Meanwhile, my beloved ginger supplements fail me and the pain intensifies. I reach for Excedrin which I do very rarely after I experienced rebound headaches a few years back. But today is important. Today I have to take the kids apple picking and I want to get ahead of this migraine attack.
Making sure the two kids get dressed, brush their teeth, eat their breakfast, have their lunch and snacks ready for school is normally very daunting. In the midst of a migraine attack, it is downright miserable. Thankfully, my daughter does not have pre-school today, and preparing lunch and school snacks for only one child surprisingly makes a world of difference. I'm also grateful that I am not working today. And so parenting with migraine becomes a little easier.
Lunch and snacks
TIP: I use the Bentgo lunch boxes to make the kids' lunches, which is such a time saver. No more multiple plastic containers or wasting zip lock bags!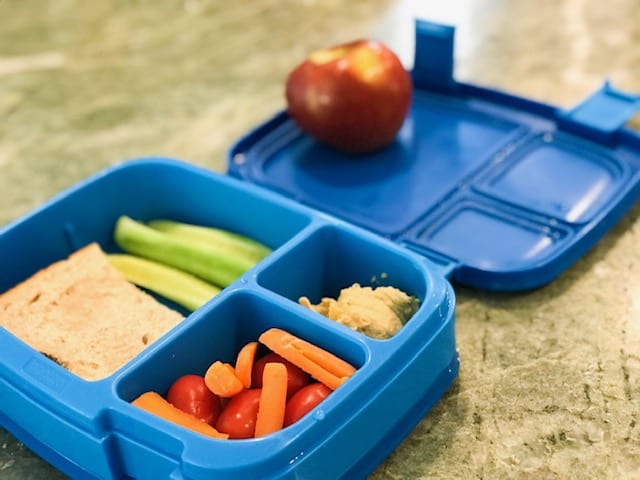 On the days such as today, when I wake up with a migraine attack, I quickly prepare a home snack tray using a muffin tin and baking cups. It's a fun way to present different types of snacks to the kids that they can graze throughout the day. My kids also use these snacks with their breakfast and lunch. I can easily refill them throughout the day. This set up is easy while parenting with migraine and makes any snack look appetizing even for the pickiest eaters.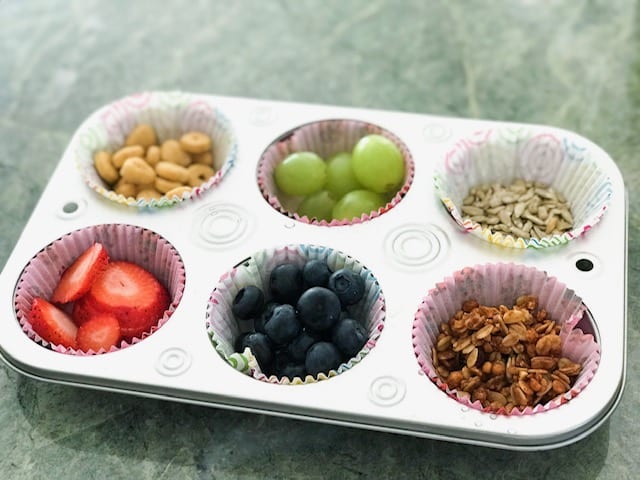 TIP: Keep a muffin tin with baking cups already inserted in one of your drawers. Additionally, keep bags of snacks, like sunflower seeds, granola, and cheddar bunnies there as well. This way, on the day of your migraine attack, just throw the contents of the bags into the cups and supplement with fresh fruit from the fridge.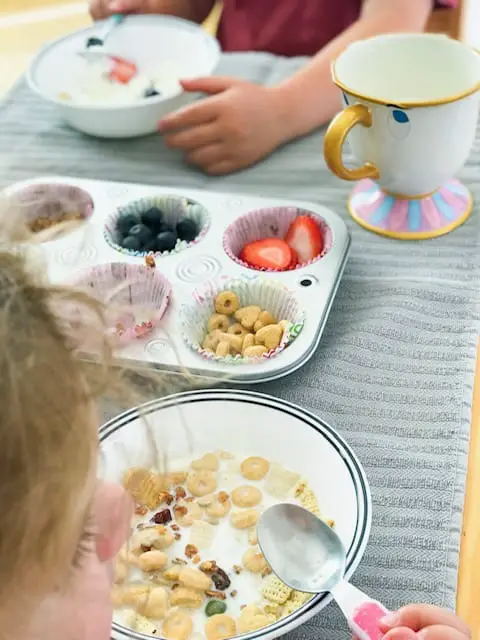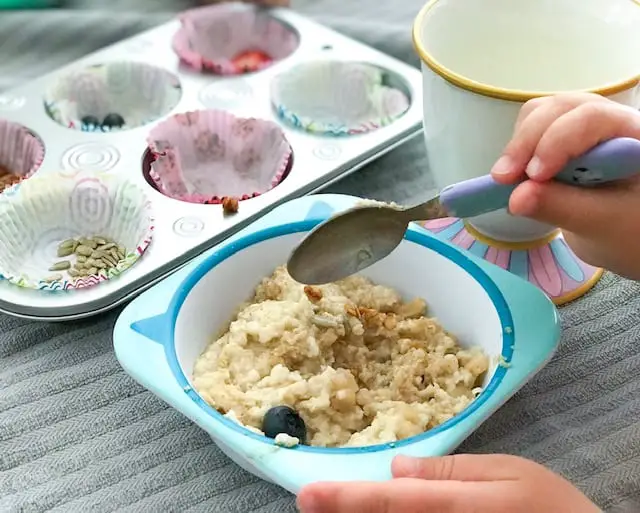 Managing through the rest of the day
I manage to drop my son off at school and get back home. By then I am having a full blown migraine attack.  I take out the big guns – Triptan! The last time I took a Triptan during the day was about half a year prior because I had an important function I was hosting in the evening. I do not like taking Triptans during the day because the side effects of nausea and body heaviness make it difficult for me to get through the day with the kids.
TIP: If possible, take Triptans before bed to sleep through the side effects and increase their effectiveness.
I tell my daughter that I need to lie down in bed. She gathers her stuffed animals, her blanket and pillow and brings them to my bed so we can watch a movie. I lie down with my head on a heating pad and close my eyes. My daughter cuddles next to me with her stuffed Princess Belle and watches TV while I try not to moan in pain.
I drift off to sleep. When I open my eyes, my daughter is still with me. So is my head pain. It's just as sharp and angry as it was before the nap. However, now i'm also fatigued and nauseous. Thanks, Imitrex!
I realize I lost this battle and accept that this migraine attack is going to be my companion for the rest of the day. I remind myself that only a few years back this was my daily reality. (You can read my full story HERE.) Living with daily pain and parenting with migraine is one of the hardest obstacles I've ever experienced. Now that my migraine disease is mostly under control (under 10 attacks per month), it's hard to imagine how I got through those years with little children.
Managing Pain
Once I accept that the pain is here to stay, I start to manage it with different alternatives to traditional migraine abortives which have failed me. I use Timolol eye drops, which is one of my recent go to acute treatments. I also apply Forces of Nature Migraine roller ball (Migraine Strong readers get 20% off with code: NATUREMS19) and put on the BeKool soft gel sheet on my left temple which slightly and temporarily numbs the pain. "The big band-aid" Ella calls it helps to take the edge off the pain and immediately invites a game of doctor where Ella gives me shots and listens to the heartbeat in my knees with her toy stethoscope. And that's how we spend the rest of the morning.
Activities For The Kids
Once we pick Liam up from school, I spend the rest of the day managing my attack and keeping the kids busy with quiet and calm activities. While parenting with migraine I've learned that keeping quiet and calm activities around the house for the children is crucial. This allows us to spend time together during my migraine attacks. In alternative, it allows me to lie down and watch them play quietly.
TIP: Eliminate toys or games that make sounds or have flashing lights from your house. During a migraine attack or postdrome, these toys will cause you pain or irritation.
Their Amazon Kindles help so much during times like these. They come with unlimited Free Time for the first year. They are essentially indestructible, come with bumper cases and a 2 year warranty. The Kindles are good for interactive games, puzzles, and read along stories.
The kids also occupy themselves with our big craft box while I rest on the couch. They periodically come up and show me what they have crafted and ask me if I want to bring it to my office to display on my wall. Of course, I do.
TIP: Create a craft box by including various items from Dollar Tree: popsicle sticks, cloth pins, pipe cleaners, pom poms, construction paper, child proof scissors, empty toilet paper rolls, empty tissue boxes, crayons, glue sticks, etc.
Parenting with migraine
Throughout the day the kids ask multiple times if it's time to go apple picking. My heart breaks a little at the possibility that I may have to cancel and disappoint them. That I am the kind of mom that spends the whole day in bed or on the couch. But I remind myself that today is just one day, that my kids are lucky to have a mom like me who loves them so much, and that we do plenty activities together. Otherwise, my negative thoughts will consume me. Overwhelming guilt and feelings of inadequacy are very common feelings of parenthood, especially motherhood. However, those feelings are especially prominent in parents with chronic illness. When pain and exhaustion are near and dear companions, guilt infects every part of your existence with chronic illness.
TIP: Ask yourself, are you doing the best you can under the circumstances? It usually makes me feel better knowing that I'm doing the best I can given the chronic illness. My best is good enough. So is yours.
Putting pain aside
Part of parenting is being able to introduce children to new experiences and share old and new traditions as a family. Unfortunately, parenting with migraine has taught me that sometimes your body has other plans. Parenting with migraine has also taught me that sometimes I have to put the pain aside to be there for my kids. I cannot do it every time I am in pain. However, I assess every situation individually and decide my plan of attack when migraine decides to attack me.
A migraine attack that does not respond to medications or alternative therapies could mean being unable to carry out some part of our family's pre-planned activities. Sometimes, it means seeing my kids' disappointed faces. This is something very new for me. Only half a year ago, they did not react this way when I let them down due to pain. When the kids were younger I could easily redirect them to another toy or activity. Plans could easily be changed at the last minute and they wouldn't even remember. But now that my oldest is 5, his memory is very sharp. At 5 and 3, they now understand that if I am in pain it means that their day will be affected. And they are vocal about expressing their disappointment if it makes them unhappy.
Of course, if I have to change plans I do so by gently explaining to them that I do not feel well and that we will re-schedule our plans to another day. My kids' disappointment does not last very long. It is me who feels guilty for disappointing them and cancelling on them. Especially after a day like today when I spent most of it in bed or on the couch. Although they bounce back within minutes, I feel the ill effects of guilt and inadequacy for days.
Finally, apple picking
Apple picking has become a fun tradition for myself and the kids. We take a hayride with our friends to an apple orchard where everyone enjoys picking their own apples. Once we are satisfied that we have enough apples to last us a lifetime we take the hayride back.
I have been talking to my kids about going apple picking for weeks now, in preparation for this event. It is always amazing how much they have grown from the previous year and how much more they understand. We discussed who will be going with us and what we will do with the apples at home.
I decide to go apple picking. Part of it was in fact guilt for laying down all day. Part of it was not wanting to disappoint the kids. Mostly it was wanting to preserve this fall tradition with my kids and make memories with them.
I stumble off the couch and got dressed. I walk slowly because my limbs are heavy. The pain, although no longer violent, is still present. I apply Timolol eye drops, put on some CBD Clinic Topical Pain Ointment on my temples, grab my sunglasses and we go apple picking. Putting pain aside is not something I could do every time. But I am glad that I was able to do it today.
I put on my brave face to make memories with my kids. That's the thing about migraine as an invisible illness, nobody can see that you are suffering if you keep it to yourself. And when I look at the photos all I remember is how happy my kids felt. And the volume of apples will continue to remind me of that for months to come.