This post may contain affiliate links. Migraine Strong, as an Amazon Affiliate, makes a small percentage from qualified sales made through affiliate links at no cost to you.
This article is sponsored by our partner, Healthline. Migraine Healthline, is the newest app that connects people with migraine. Download your free Migraine Healthline app here! 
Migraine Strong has been partnering with Healthline over the past month to launch their new Migraine Healthline App. It is exciting to watch this new online migraine support group community come alive and take shape. We have been able to see relationships grow among the community members and see these very important connections taking place. 
Live Chats: Sunday – Thursday there are nightly live chats that currently take place at 8:00pm EST/5:00pm PST. These Live Chats give us an opportunity to discuss a variety of topics based on the different groups in the app (General, Prodrome & Postdrome, Medication & Treatments, Social Life with Migraine, Migraine Strong, Migraine & Family Life, Migraine at Work or School, Lifestyle, Mental Health, Navigating Healthcare, Alternative Therapies, Migraine Triggers and Inspiration). Hosting these chats is our very own Eileen Zollinger on most nights. Well known guest hosts from the migraine community join us to lend their support and expertise on a given topic to the group on other nights. A push notification is sent out every night to every App user to help them find and enter the Live Chat. Participation is as easy as reading and hitting Reply!!
Migraine Matches: After you fill out your profile, the app will connect you with other people within the community that have similar migraine experiences. This enables us to chat with others, right inside the app, and make real connections with people that are going through the same things that we are! Migraine Buddies!
Discover: The app has a Discover section where there are great articles linked for more information about migraine. It might be the newest information about migraine treatments or a story you can absolutely relate to. Definitely check out this section…you might even notice that Migraine Strong is represented here!!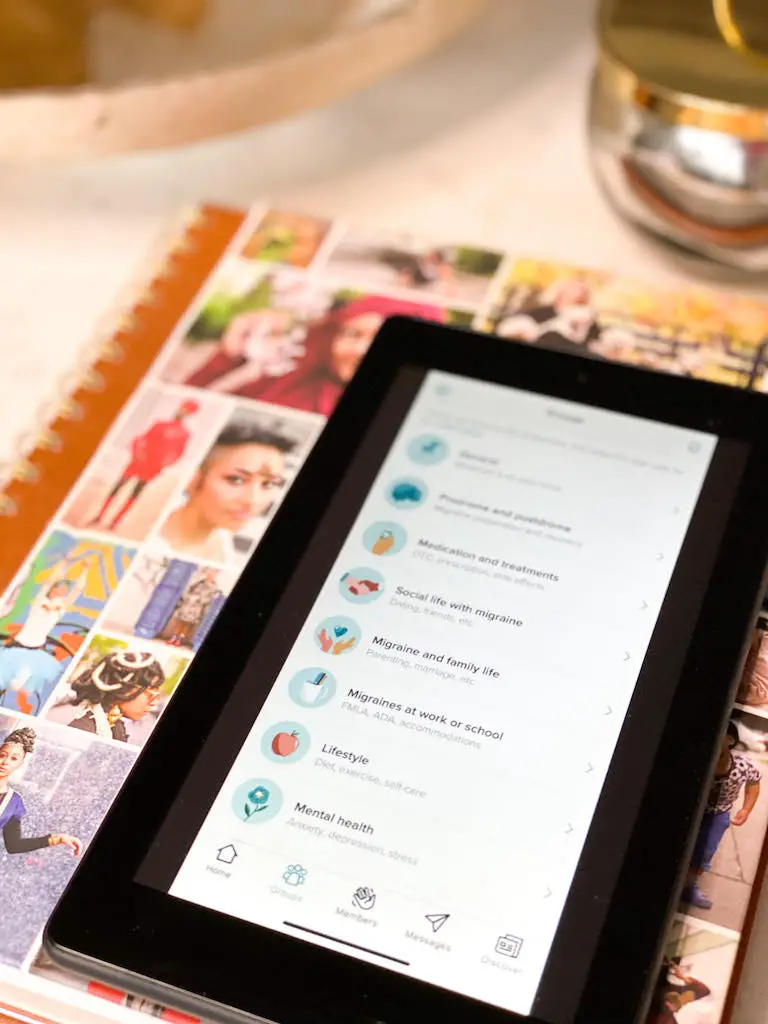 What We Have Learned
Community is important and we have seen this in online migraine support groups. We have learned this over the years and it has been confirmed once again with the Migraine Healthline App. We can see it as this community comes together and shares their stories. Individuals reach out to reassure each other and connect on very personal levels about how migraine has affected their lives, while also demonstrating that migraine doesn't define us. The compassion and strength with which we reach out to each other in the community does.
The Migraine Healthline App is a place where our migraine community can connect with each other to share experiences, lend support, and advice. It's an opportunity for those feeling the isolation of migraine to reach out to others waiting to grab their hands and offer companionship. We are excited to share our journey inside the app with you!
If you haven't downloaded the Migraine Healthline app, what are you waiting for? Download the FREE app here and come join us!! We can't wait to see you there.
Amazon and the Amazon logo are trademarks of Amazon.com, Inc, or its affiliates.