This post may contain affiliate links. Migraine Strong, as an Amazon Affiliate, makes a small percentage from qualified sales made through affiliate links at no cost to you.
A turtle named Dorian
Staying migraine attack free while fighting off stress and a hurricane is tough. A fellow Floridian posted a funny meme while Florida waited for news about hurricane Dorian. Something to the effect of waiting on hurricanes was like being stalked by a turtle. We all felt like we were being stalked by a turtle that would likely be a very serious threat to life and property in the coming days.  However, this stress is very different than the colossal stress I have had over the past few months. 
The stress is real
Just to name a few stressful things I have dealt with – we decided to relocate from Pennsylvania to Florida and listed our house for sale in the spring.  Of course, we had to find a house in Florida without having much time to go house hunting.  We were leaving behind many good friends and a school that my 10-year old daughter loved.  We were doing this to be closer to family after my mom's lung cancer diagnosis. She was doing ok but not great.  My dad had recently turned 80 and it was just time to be closer to them.  I wanted to enjoy being with them as well as help them out. 
The real estate transactions went through pretty easily.  Downsizing to a space that was only 40% of what we had was tough but it helped us simplify our lives.  Boiling things down to your most important and favorite objects is an interesting project but fraught with internal and sometimes marital conflict.  After spending 3 nights in our new home with most of our life still in boxes, my mom became unexpectedly ill.  I flew to Long Island to be with her while she was in the hospital and to support my father.
I'm glad I made the trip when I did as my mother never got better and we lost her after 12 agonizing, emotionally traumatic days in the hospital.  My husband and daughter stayed in Florida unpacking our belongings while my brother and I helped our dad make arrangements for her services.  Losing my mother and being part of the excruciating end-of-life decisions was the most stressful and sorrowful time in my life.
Dorian, the villainous turtle
For days I looked at the news cynically. I convinced myself this was another overblown weather story to boost ratings and sell batteries, water and the makings of French toast.  But then Dorian got bigger, stronger and closer.  We don't live on the water but we live close enough to be in an evacuation zone.  Our house is built like a fortress to withstand typical hurricanes and tropical storms, eliminating our need to evacuate. But it soon became obvious that Dorian was not a typical hurricane. So our decisions would be based on the weather news which is sometimes sensationalized. 
Dorian was the biggest, baddest turtle of them all.  There was so much to consider with my 10-year old daughter's safety at the top of the list.  Do we stay or go?  If we go, WHERE do we go that will allow us to bring our cats? Do we accept offers to go inland and north to stay with friends when our own fortress would be more secure and have more supplies?  If we go, when our full tank of gas runs out will we be able to find gas to get back home?  Was Dorian going to make landfall as a catastrophic Category 5 hurricane in my front yard and level my neighborhood or was it going to head north and stay offshore?
Decisions, decisions!
These decisions are certainly less emotional and consequential than the decisions we had to make about my mother's life. But seriously – Is this summer trying to give me a nervous breakdown?  I have migraine gosh darn it!  Fortunately, I have several 5-star people in my life that helped not only with decisions but with managing my stress level and staying on a good streak of migraine attack free days despite the hurricane. 
How I avoided a full-blown migraine attack:
Support – I have 4 outstanding migraine buddies that co-run this blog with me.  We are in touch all the time and someone is always available when needed.  Having these fabulous people on my side and there for me is a reminder to do all the things within my control to keep my trigger threshold as low as possible to stay migraine attack free in spite of the hurricane.  I must "mind my Bucket."  If you aren't familiar with concept of The Bucket Theory, this blog is a must-read.  Having these friends also provides a critically important social support structure for me.  So, what did they remind me to do?  The next three items.
Minimize triggers – Usually, I follow a low-carb diet (no grains, no sugars, minimal fruits and starchy veggies). I can typically eat what I want from the list of common migraine triggers that used to be a problem for me. In stressful times, following low-carb is more difficult as I have much less control over menus combined with a desire to participate with my family. And, like all of us imperfect people, I stress-eat and indulge in carby comfort foods sometimes. So, when I eat more carby foods, I MUST keep an eye toward minimizing my food triggers. I can enjoy one of my favorite triggers, red wine, if I use The Wand by Pure Wine (15% off with code migrainestrong for our readers). So I have made sure to not run out of these handy helpers while Dorian is around. Scratch that – I will make sure I ALWAYS have a supply on-hand. Vino es muy importante!
Stay hydrated and take helpful supplements –  Magnesium has made a difference for me so I make sure I take it during stressful times.
Keep active – Dorian the Turtle has been stalking us for an eternity so, there has been plenty of time for being on-the-go . My husband and I have been going for good, focused walks. I did a little gardening. Rearranged things in the yard to make sure we were safe and comfortable in our own fortified turtle shell.
Local community – We have been out and about in the neighborhood. Talking to people who have been through all the hurricanes in the recent past so we know each other better.  We have reached out and helped people put their hurricane shutters up.  We made Rice Krispie treats for the police.  Helping others and having a sense of belonging and camaraderie gives a boost to our sense of mental and emotional health.  This helps minimize stress as we are thinking of others as well and feeling part of something bigger. 
As I write this, I am sitting on my lanai. Enjoying the sounds of nature's fury, but my family and I are safe.  Dorian's eye is only about 65 miles away. But I am confident in the predictions and expect it to stay offshore.  My app tells me that it has been 32 days since I have needed to medicate an attack. I was able to scare an impending attack off with some coffee and stayed migraine attack free despite the hurricane. I can already imagine the clouds clearing and the sun returning. Working with the neighbors to clean-up the debris and make the neighborhood sparkle again.
A screenshot of my Migraine Buddy app today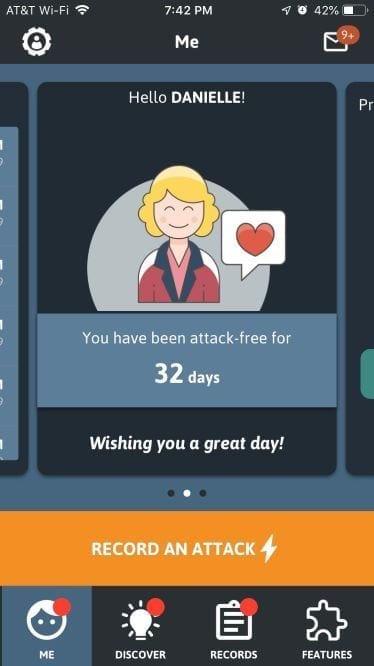 Amazon and the Amazon logo are trademarks of Amazon.com, Inc, or its affiliates.